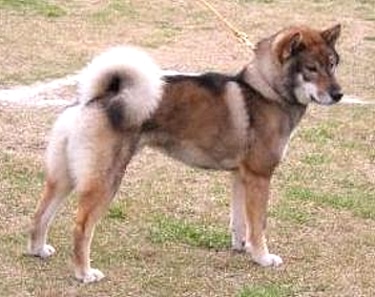 The Shikoku (Japanese: 四国犬) is an ancient medium-sized spitz named after Shikoku Island in the mountains of the Kochi Prefecture that was originally bred thousands of years ago to hunt deer and wild boar.
In the early 1930s, the Shikoku was identified as one of six primitive, indigenous Japanese dogs by cynologist, Haruo Isogai. The Nihon Ken Hozonkai (NIPPO) was formed to preserve these six breeds.
Weight: Female: 35–55 lbs (16–25 kg) Male: 35–55 lbs (16–25 kg)
Height: Female: 17–19 inches (43–49 cm) Male: 19–22 inches (49–55 cm)
Coat:  Short, straight and dense. Undercoat is soft and thick
Color: Red Sesame, Black Sesame, Sesame.
Life span: 10-12 years
Temperament: Cautious, Intelligent, Energetic, Loyal, Agile, Brave.
Health: Healthy breed. Some may be susceptible to elbow and hip dysplasia.

Special Interest:
• Looks similar to the Siberian Husky.
• Designated a Living National Monument by Japan in 1937.
• Also know as the Kochi Ken, Shikoku Ken, Mikawa Inu and Japanese Wolfdog.
• One of the six native Japanese spitz breeds that include the Akita, Kai Ken, Kishu Ken, Hokkaido and Shiba Inu.
• Crossed with the Great Dane, German Pointer, Old English Bulldog, English Mastiff, St. Bernard and Bull Terrier to create the Tosa.
Classifications:
AKC: FSS
CKC: Miscellaneous
UKC: Northern Breed
FCI: Group 5 Spitz and Primitive dogs, Section 5 Asian Spitz and related breeds #319