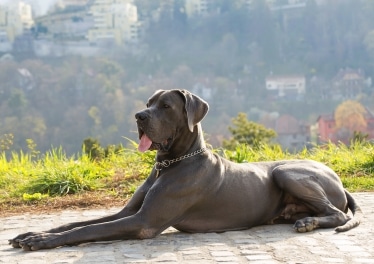 Referred to as the "Apollo of dogs", the Great Dane combines such impressive physical and mental characteristics as to make it one of the most majestic breeds known. Pictures in Egyptian tombs, dating as far back as 3000 BC, depict dogs resembling the Great Dane; and, Celtic and Germanic tribes used the early breed types as war dogs.
Authorities state that the breed was already established in Britain before the Roman Conquest and that Romans took the dogs home with them where they were used as fighting dogs. Refinement and development of the Great Dane, however, started in Germany during the Middle Ages, and not in Denmark as the name might imply.
Founding of Great Dane Clubs in Germany and England took place in the late 1800s. The breed, when it was introduced to America in 1877, was markedly vicious. American breeders were credited with transforming the Great Dane into a sweeter, well-mannered breed by the early 1900s. The Great Dane continues to make a good family protector and pet, and requires plenty of room and exercise.
Height: The height for a Great Dane is 32″ (81.3cm) for dogs, 30″ (76.2cm) for bitches.
Weight: The weight for a Great Dane is 100 – 120 lbs (44.6 – 53.6 kg)
Coat Type: The Great Dane's coat is short, dense, flat-lying, and shiny.
Color: Colors of the Great Dane's coat include all-black, brindle, fawn, blue, or harlequin which is a mix of white with black patches. Very little grooming is required for this breed.
Temperament: Although the Great Danes in Germany were often bred and used as estate guards and still maintain a protective instinct, the breed today is a friendly and even-tempered one. Great Danes are spirited, fearless, loyal and dependable. They make superb family pets.
Health Problems: Special nutritional needs must be met during the critical growth periods of this slow-maturing breed's life. Be sure to ask the breeder about these requirements. The Great Dane, because of its deep chest, is one of the breeds most at risk for gastric torsion (bloat).
Special Interest: One of the original uses of this breed was as a hunter of large prey. Nobility often gathered to hunt wild boar, and it is recorded that in 1592, the Duke of Braunschweig arrived at the event with a pack of 600 male dogs!
The Great Dane (along with the Irish Wolfhound) is the tallest of breeds of dogs. In November 2009, a four year old Great Dane from California named Titan was recognized by Guiness World Records as the World's Tallest Dog. Titan was officially measured at 42.25 inches (107.3 cm) from floor to shoulder.
A Great Dane also is in the Guinness World Records for the largest litter with 23 pups (in a tie with a Saint Bernard and an American Foxhound); however the American Foxhound is considered to hold the record since all 23 of its pups survived.
Classifications:
AKC: Group 3 – Working Dogs
ANKC: Group 7 – Non Sporting
CKC: Group 3 – Working Dogs
FCI: Group 2 Section 2 Molossoid breeds
KC: Non-Sporting – Working Group
NZKC: Non Sporting
UKC: Guardian
Kennel.com Recommends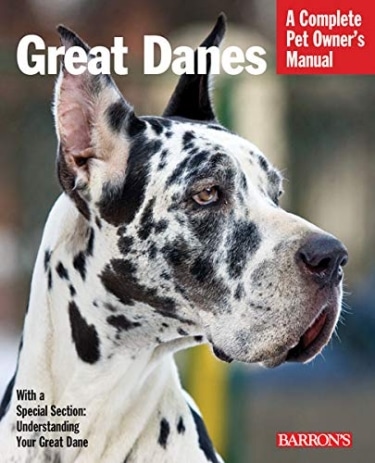 Great Danes