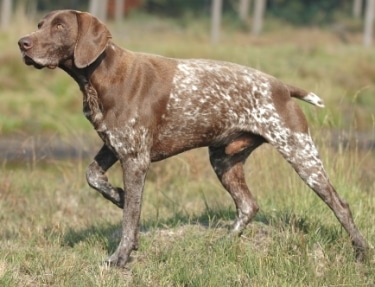 The German Shorthaired Pointer is well-balanced, symmetrical, athletic and lean. The development of the breed began in the 1870s when hunting in Germany was no longer restricted to the nobility. Sportsmen could not afford to keep several specialized breeds and needed a hunting dog capable of tracking, pointing and retrieving on land or in water.
Original crosses included descendants of the old Spanish Pointer, English Foxhound and local German tracking hounds. The German Bird Dog and English Pointer make up the basic foundation for German Shorthaired Pointers.
This breed, known as the Kurzhaar in Germany, featured superior scenting abilities, endurance, agility, and intelligence. By the early 1900s the breed was officially recognized by the various kennel clubs and the breed soon gained popularity as a true gundog on this continent as well. The German Shorthaired Pointer adapts well to both city and country life, however, be warned that this is an extremely active dog which requires plenty of exercise and play.
The German Shorthaired Pointer was first admitted into the The American Kennel Club (AKC) studbook in 1930.
Height: The height of the German Shorthaired Pointer is 21 to 25 in. (53–63 cm) Males are slightly larger than females.
Weight: The weight for a German Shorthaired Pointer is 45 to 70 lbs (22 to 32 kg).
Coat Type: Short, thick, rough feel (except the head and ears where it is soft). The undercoat is dense and stiff making it protective against the elements. Easy to care for coat – regular brushing is required and a bath only when necessary. Note that the short, stiff hairs are known to get stuck in soft furniture (couch, chairs). Average shedder.
Color: Solid liver or a combination of liver and white such as liver and white ticked, liver patched and white ticked, or liver roan.
Temperament: German Shorthaired Pointers are friendly, intelligent and very energetic. These fun and good natured dogs that love to play make a great family pet and they do very well young children. In general, training is easy although German Shorthaired Pointers are not all alike and some will be easier to train than others. Consistent training which is firm, yet calm is important. This breed is willing to please. They have a high energy level therefore a short walk around the block simply is not enough. They need vigorous activities such as regular running, bikejoring, hunting etc. They are best suited for an active family. German Shorthaired Pointers are hunting dogs, so they have chasing instincts. This breed makes a great watchdog.
Health Problems: The German Shorthaired Pointer is generally a healthy breed. Several health issues include: hip dysplasia, genetic eye diseases, skin disorders, cancerous lesions on the mouth, epilepsy, and congenital cardiac. German Shorthaired Pointers are prone to ear infections and because they are so active they eat a lot, but owners should be careful not to overfeed as they may become obese. The average life expectancy of a German Shorthaired Pointer is between 12 – 15 years.
Special Interest:
• The German Shorthaired Pointer has been used in Scandinavia for the popular sport, dogsled racing.
• German Shorthaired Pointers (like all Pointers) have webbed feet.
• American crime writer, Robert Parker included German Shorthaired Pointers in his popular mystery series.
• American writer and an environmental activist Rick Bass wrote about German Shorthaired Pointers in his book titled, Colter: The True Story of the Best Dog I Ever Had.
Classifications:
AKC: Sporting Group
ANKC: Group 3 – Gundogs
CKC: Group 1 – Sporting Dogs
FCI: Group 7; Section 1 – Continental Pointing Dog
KC: Gundog Group
NZKC: Gundog
UKC: Gun Dog
Kennel.com Recommends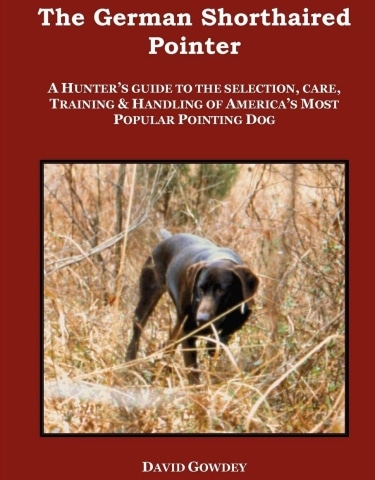 German Shorthaired Pointer