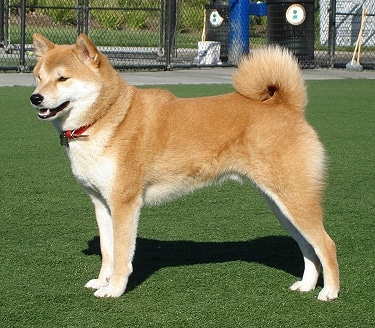 The Shiba Inu is a small, compact, well-balanced and muscled dog that is indigenous to Japan. It is believed this ancient breed was produced by crossing with other primitive dogs traveling with immigrants to Japan thousands of years ago. Six different breeds were created from these native Spitz-type dogs: the Akita which is the largest, the The Kishu, Hokkaido, Shikoku, & Kai which are medium in size and the Shiba which is the smallest of all.
How the name 'Shiba' came to be is not known for certain. One theory is that it was given because the word Shiba at one time in the Japanese language referred to something small. Another theory is that name actually translated to the word brushwood, which is the type of areas where these dogs hunted (they were also referred to as Little Brushwood Dog). Inu in Japanese translates to dog.
The breed's purity was threatened in the mid to late 1800s and early 1900s when other English dogs were brought to Japan and crossbred with the Shiba Inu. Efforts were successfully put in place to preserve the Shiba Inu and the first breed standard was established in 1934. In addition, the Shiba Inu was declared through the Cultural Properties Act in 1936 as a national product or monument of Japan. WWII also put a tremendous strain on the Shiba Inu's existence. There were three different bloodlines of the Shiba Inu and the breed we have today is a combination of all three.
The first Shiba Inu imported to the United States was in 1954, but it wasn't until the 1970s they were imported for the purpose of breeding. The Shiba Inu first entered the American Kennel Club Stud in 1992 in the Miscellaneous Class and then later recognized in 1993 in the Non-Sporting Group.
The Shiba Inu was originally used for hunting and to flush birds. Today they are used primarily as a companion and family pet. The Shiba Inu is named the National Treasure of Japan and is also their most popular breed.
Height: The height for a Shiba Inu ranges from 13½ to 16½ inches (34 – 42 cm) tall at the shoulder. AKC Standard.
Weight: The weight of a Shiba Inu can range from 17 to 23 pounds (8 – 11 kg).
Coat Type: The Shiba Inu has a double coat. The outer coat is straight, stiff and harsh and the under coat is soft and dense. To keep the Shiba Inu's coat in good condition, combing or brushing should be done 2 – 3 times a week. A bath is only needed when necessary and on a side note, the Shiba Inu has a fastidious nature and keeps himself clean by licking his paws and avoiding puddles, etc. The coat should be left in its natural form and not trimmed.
Color: The color of Shiba Inu's coat can be red, black and tan, sesame, black sesame, red sesame.
Temperament: The Shiba Inu is faithful, intelligent, alert, independent and bold. The most desirable characteristics the Japanese look for in a Shiba Inu include courage, devotion and a lively spirit. Shiba Inus are very protective of their family and wary of strangers making them an excellent watch dog. They are gentle with children and thrive when they are with their family. Shiba Inus are easy to train and need to be with an owner who consistently portrays himself as his pack leader. This is an active breed and daily walks are essential. Shiba Inus have great endurance and can walk or jog for long periods of time – and they should be kept on a lease if not in a secure area.
Health Concerns: The Shiba Inu is a healthy and hardy breed, however, some are prone to patellar luxation, hip dysplasia, PRA and allergies. The average life expectancy of a Shiba Inu is 12 – 15 years.
Special Interest:
• The Shiba Inu is Japan's oldest and smallest breed.
Classifications:
AKC: Non Sporting Group
ANKC: Utility Group 6
CKC: Non Sporting Group 6
FCI: Group 5 Section 5 Asian Spitz and related breeds
KC: Utility
NZKC: Utility
UKC: Northern breeds