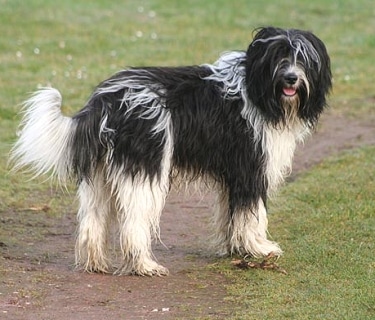 Descending from a general type of farm and herding dog popular in the Drenthe province of the Netherlands, and the Veluwe, an area of forests and swampland, the Schapendoes or Dutch Sheepdog is still considered a working dog, but also participates in sports such as agility and flyball.
The Schapendoes has existed alongside Dutch farmers and shepherds for hundreds of years. They were especially popular during the late 19th and early 20th centuries, but their numbers plummeted when the Border Collie was imported.
After nearly becoming extinct during WWll, the Nederlandse Schapendoes revived the breed in 1947. The Dutch Raad van Beheer (Dutch National Kennel Club) first recognized the Schapendoes in 1952, and the first standard was written in 1954.
The Schapendoes is related to the Bearded Collie, Puli, Polish Lowland Sheepdog, Old English Sheepdog, Briard, Bergamasco Sheepdog and Old German Sheepdog. All of these related breeds are smaller mutations of mountain dogs.
Weight: Male: 26–55 lbs (12–25 kg) Female: 26–44 lbs (12–20 kg)
Height: Male: 17–20 inches (43–50 cm) Female: 16–19 inches (40–47 cm)
Coat: Dry, long and tousled. Undercoat is soft, fleecy and fluffy.
Color: Black, Black & White, White & Chocolate, Tri-color, Gray & White, Blue Gray.
Life span: 12-15 years
Temperament:  Intelligent, Lively, Friendly, Watchful, Attentive, Courageous.
Health: Healthy breed. Some may be susceptible to progressive retinal atrophy (PRA) and hip dysplasia.

Special Interest:
• Exhibited in the first dog shows in the 1870s as a Domestic Herding dog.
Classifications:
AKC: FSS
CKC: Herding group
UKC: Herding Group
FCI: Group 1 Herding dogs, Section 1 Sheepdogs #313