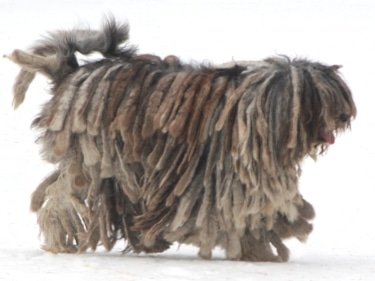 The Bergamasco Shepherd (Pastore Bergamasco) is a muscular, heavy-boned herding dog named after Bergamo, Italy and known for its felted, dreadlocked coat.
The breed's ancestral birthplace is in Persia over two thousand years ago. Nomadic Persian shepherds settled in the Italian Alps and took the dogs with them.
The Bergamasco Sheepdog has hair of three different textures that form naturally forming loose dreadlocks or "flocks" (strands of hair woven together creating flat layers of felted hair), covering the body and legs). These flocks provide protection from the fierce cold and wild predators of the Italian Alps.
Weight: Male: 70–84 lb (32–38 kg) Female: 57–71 lb (26–32 kg)
Height: Male: 23.5 in (60 cm) Female: 22 in (56 cm)
Coat: Non-shedding felt-like dreadlocks on body and legs.
Color: Black, Merle, Fawn, Silver-gray, Grey, Black & Brown, Light Fawn
Life span: 13–15 years
Temperament: Intelligent, Patient, Determined, Vigilant, Protective.
Health: No major health issues. Hip and elbow dysplaysia is a minor concern.
Special Interest:
• Almost became extinct by the end of WWll.
Classifications:
AKC: Herding Group
ANKC: Group 5 (Working Dogs)
KC (UK): Pastoral
NZKC: Working
UKC: Herding Dog
FCI: Group 1 Herding dogs, Section 1 Sheepdogs #194
Kennel.com Recommends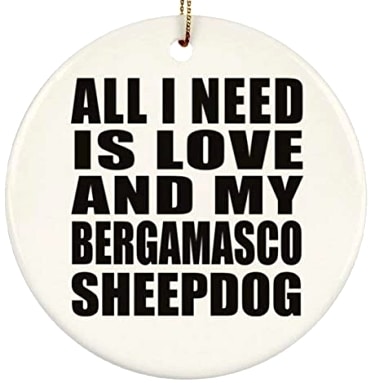 LOVE MY BERGAMASCO SHEEPDOG