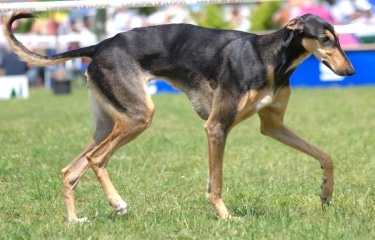 The Polish Greyhound, or Chart Polski, is a Polish sighthound. Like the Hungarian Greyhound, it is not descended from the Greyhound, but from the ancient hounds of Egypt, as is the Borzoi, Afghan and Saluki.
The existence of the breed was first documented by Polish historian Gallus Anonymus (1066-1145) in the 12th century. A favorite dog of Polish nobility, the Polish Greyhound was originally used to hunt birds, particularly the Great bustard.
After World War II and the subjugation of Poland by the U.S.S.R., hunting with the Polish Greyhound was forbidden and many dogs were culled. The breed was revived by Stanisław Czerniakowski in 1972 after he bought two females (Taiga and Struska) and one male (Elbrus) in the vicinity of Rostov-on-Don, Russia and brought them back to Warsaw.
In 1989, the breed was officially recognized by the Fédération Cynologique Internationale (FCI).
Weight: Female: 59–69 lbs (27–31 kg) Male: 59–69 lbs (27–31 kg)
Height: Female: 27–30 inches (68–75 cm) Male: 28–31 inches (70–80 cm)
Coat Type: Double, harsh, smooth.
Color: Black & Tan, Blue, Beige.
Life Span: 10-12 years
Temperament: Self-assured, Reserved, Confident, Brave.
Health Concerns: Healthy breed. Some may be susceptible to cardiomyopathy and gastric torsion.
Special Interest:
• Also known as the Polish Sighthound.
• Polish poet Adam Mickiewicz described the breed in his 1834 masterpiece, Pan Tadeush.
Classifications:
CKC: Miscellaneous
UKC: Sighthound & Pariah
FCI: Group 10, Section 3 Short-haired Sighthounds #333