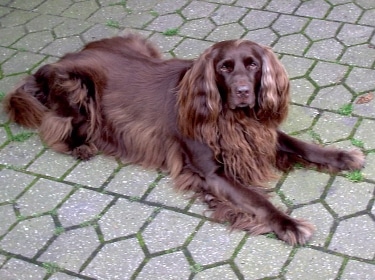 Developed in Germany in the late 19th century, the German Longhaired Pointer (GLP) is a versatile hunting-pointing-retrieving (HPR) breed closely related to the German Shorthaired Pointer (GSP), German Wirehaired Pointer (GWP) and Large Münsterländer, which was previously part of the breed.
Originally a slow moving dog, German breeders added setters and English Pointers into the bloodline and their speed improved.
The first breed standard was written in 1878, but the officially adopted breed standard was written in 1897 by Baron von Schorlemer.
Weight: Male: 60–71 lbs (27–32 kg) Female: 60–71 lbs (27–32 kg)
Height: Male: 24–28 inches (60–70 cm) Female: 23–26 inches (58–66 cm)
Coat: Medium-length. Thick and wavy.
Color: Solid Brown, Liver Roan or Brown and White.
Life span: 12-14 years
Temperament: Affectionate, Intelligent, Kind, Friendly, Gentle, Familial.
Health: Healthy breed. Some may be susceptible to gastric torsion, hypothyroidism, canine hip dysplasia (CHD), osteochondrosis dissecans (OCD), von Willebrand's Disease (vWD), entropion, and pannus.
Special Interest:
• Also known as the Deutscher Langhaariger and Deutscher Langhaariger Vorstehhund.
• Similar in appearance to an Irish Setter.
• The Large Münsterländer was developed in the late 19th and early 20th century from rejected black and white puppies that did not meet the German Longhair Pointer breed color standard.
Classifications:
AKC: FSS
CKC: Group 1 – Sporting
KC (UK): Gundog
UKC: Gun Dog
FCI: Group 7, Section 1.2 Continental Pointing Dogs: Spaniel type #117
Kennel.com Recommends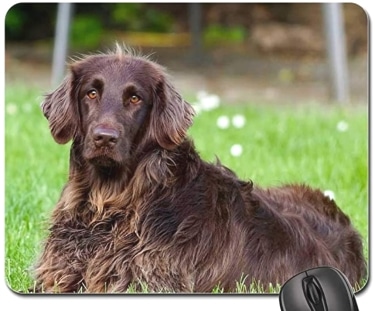 GERMAN LONGHAIRED POINTER MOUSE PAD