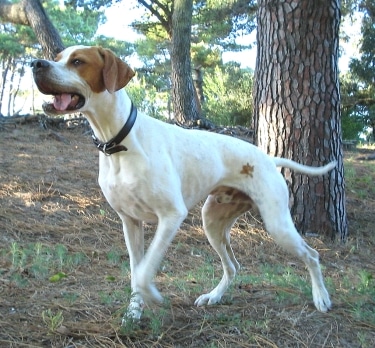 The Pointer, or English Pointer, is a sporting dog which is athletic, alert, well balanced and graceful. While there is no definitive answer regarding exactly how the today's Pointer came to be, we know the first Pointers appeared in England around 1650. Additionally, it is strongly believed the Pointer's ancestors originated in Spain.
There are somewhat different claims as to which other breeds contributed to the Pointer – one includes the Greyhound, Foxhound, and Bloodhound crossed with a type of setting spaniel. There are also claims that the Italian Pointer, Setter, Bulldog and Newfoundland all contributed.
The Pointer is a courageous dog with great stamina as well as tracking and pointing abilities. The breed was initially used to locate and point hare for Greyhounds who would then hunt the game. However, the Pointer became very popular in the 18th century as a bird spotter. He would locate the prey and stand motionless until the hunter was able to take aim and shoot.
The Pointer has been in the United States since the 1800s – possibly arriving at or around the time of the Civil War. In the 1870s, The Westminster Kennel Club was formed and one of the earliest Pointer imports named Sensation, which became their club logo.
Height: Males: 25-28 in (63.5-71.1 cm) Females: 23-26 in (58.4-66 cm)
Weight:  Male: 55-75 lbs (25-34.1 kg) Females: 44-65 lbs (20-29.5 kg)
Coat Type: Short, smooth and shiny.
Color: Black, Lemon, Liver or Orange. Solid or with White.
Life Span: 12-17 years
Temperament: The Pointer is active, intelligent and adaptable. He is loyal and devoted making him a wonderful companion. Pointers also do very well with children, however younger children should be supervised, just so that unintentional injuries do not occur. The Pointer thrives when he part of his family. He is much happier left in the home as opposed to outside when his owner or family is away. Pointers generally get along with other dogs and pets, but must be socialized starting at a young age. Daily exercise for your Pointer is a must – this breed enjoys jogging, long walks and even some enjoy swimming. While the Pointer is an active breed, he also enjoys lazing around the house.
Health Concerns: Healthy breed. Some may be susceptible to allergies, deafness, cataracts, epilepsy, cherry eye and hip dysplasia.
Special Interest:
• Has exceptional pointing and tracking abilities.
• Natural instincts to hunt are present as young as two months of age.
• The Pointer is known to be a couch potato!
Classifications:
AKC: Sporting Group
ANKC: Gundogs Group 3
CKC: Sporting Dogs Group 1
FCI: Group 7 Section 2 British and Irish Pointers and Setters
KC: Gundog
NZKC: Gundogs
UKC: Gun Dog