Rin Tin Tin was a male German Shepherd rescued during World War One that appeared in more than 25 Hollywood movies and became an international sensation.
Following the Battle of Saint-Mihiel in north-eastern France, Corporal Lee Duncan, an aerial gunner of the U.S. Army Air Service, was sent on September 15, 1918, to the small French village of Flirey to survey it as a flying field for the 135th Aero Squadron. Duncan stumbled across a bombed-out kennel that bred German Shepherd dogs for the Imperial German Army. The only survivors were an emaciated mother and her litter of five puppies, their eyes still closed because they were less than a week old. This would approximate their birth to be September 9, 1918. Duncan carried the mother and puppies back to his unit.
After weaning the puppies, he gave the mother to an officer and three of the puppies to other soldiers, but kept a male and a female for himself. Duncan considered these two puppies to be his personal symbols of good luck. He named the male Rin Tin Tin and the female Nanette after good luck charms called Rintintin and Nénette that French children handed out to American soldiers. Ironically, the French considered Rintintin to be a girl doll.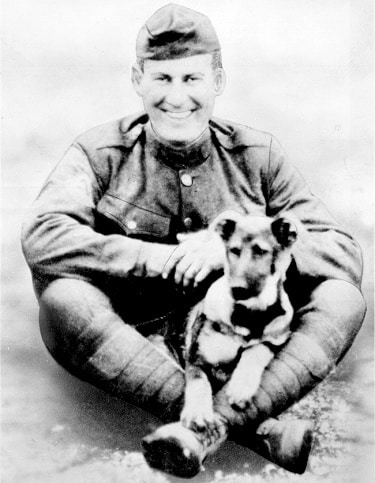 The war ended in November 1918 and in July 1919 Duncan and the puppies boarded a ship back to the United States. During entry processing in New York, he put the dogs in the care of Mrs. Leo Wanner, who bred police dogs on Long Island. Nanette contracted pneumonia and Wanner gave Duncan another female German Shepherd puppy that he named Nanette ll. While en route to his home in Los Angeles, he received word that Nanette had died and he renamed Nanette ll as Nanette.
Duncan taught Rin Tin Tin various tricks and was a founding member of the Shepherd Dog Club of California. He believed that Rin Tin Tin might win some dog shows and, bred with Nanette, become a viable source of income.  Unfortunately, during the Shepherd Dog Club's first show, Rin Tin Tin became very aggressive – barking and snapping at the other dogs. Dejected, things got worse as they walked home and a bundle of newspapers thrown off a truck accidentally landed on the dog, breaking his leg. Duncan set Rin Tin Tin's leg in plaster and spent nine months nursing him back to health.
After the the leg was healed, Duncan entered Rin Tin Tin in another show for German Shepherds in Los Angeles. The dog amazed the audience with an incredible leap of 11 feet 9 inches (3.58 m). While doing so, he was filmed by Duncan's friend Charley Jones. Duncan watched the film and became convinced Rin Tin Tin could become the next Strongheart, another German Shepherd making so much money in films that he had his own private stucco bungalow in the Hollywood Hills.
Duncan wrote, "I was so excited over the motion-picture idea that I found myself thinking of it night and day."
Duncan walked Rin Tin Tin up and down Poverty Row, an area in Hollywood that was comprised of low-budget, B-movie studios, looking for anyone who might put the dog in a film. His lucky break came when Rin Tin Tin replaced a camera-shy wolf in The Man from Hell's River (1922) featuring Wallace Beery. Under Duncan's voice commands, Rin Tin Tin impressed the director and studio, and was billed as Rin Tan.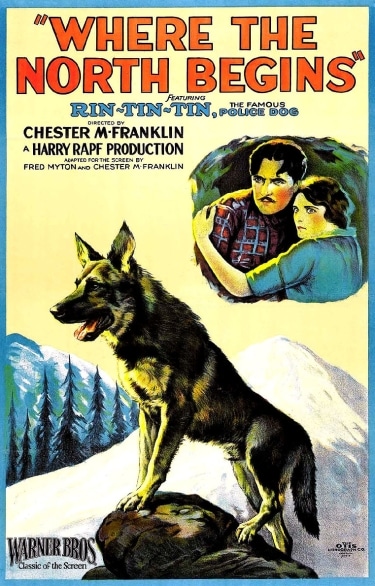 Word spread quickly in Hollywood and Rin Tin Tin's first starring role was in Where the North Begins (1923) alongside silent screen actress Claire Adams. This film was a huge box office success and has been credited with single handedly saving Warner Brothers from bankruptcy. 24 more films followed, each more popular than the last, not only saving the studio, but launching the industry career of a young screenwriter named Darryl F. Zanuck.
In New York City, Mayor Jimmy Walker gave Rin Tin Tin a key to the city.
Rin Tin Tin was featured in ads for Ken-L Ration, Ken-L-Biskit, and Pup-E-Crumbles, and barked in his own radio program, The Wonder Dog, in 1930. His thousands of requests for photographs were signed with a paw print and a line handwritten by Duncan: "Most faithfully, Rin Tin Tin."
He became so popular that he threatened to win the award for Best Actor at the first Academy Awards in 1929. However, the Academy believed it would discredit the award if an animal won and Rin Tin Tin was removed as a choice. The award was eventually won by German actor Emil Jannings.
Rin Tin Tin and Nanette produced almost 50 puppies. Recipients included Greta Garbo, W.K. Kellogg and Jean Harlow.
On August 10, 1932, Rin Tin Tin died at Duncan's home in Los Angeles. He heard the dog bark in a strange manner and ran to see what was wrong. Duncan found Rin Tin Tin lying on the ground, only seconds from death.
Brokenhearted, he sold his house and returned the dog's body to the country of his birth where he is buried today in the Cimetière des Chiens et Autres Animaux Domestiques, the famous pet cemetery in the Paris suburb of Asnières-sur-Seine.
On February 8, 1960, Rin Tin Tin was honored with a star on the Hollywood Walk of Fame.