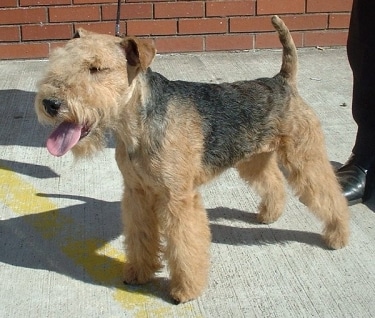 Lakeland Terriers are small sized terriers known to be bright, cheerful, courageous and confident. They come from Cumberland County in England and were used by farmers to protect sheep from foxes which they were trained to kill. Lakeland Terriers were also trained to hunt and kill badgers, otters, rabbits and other small animals including vermin.
This feisty breed has incredible stamina and can easily hunt for long periods on mountainous, rocky and rough terrain. Its dense, double coat protects the breed from harsh underbrush.
Lakeland Terriers are similar to Welsh Terriers and both are related to the Old English Black & Tan Terrier (which is no longer in existence). It is believed these breeds contributed to the development of the Lakeland Terrier: Bedlington Terrier, Old English Wirehaired Terrier, Border Collie, early Dandie Dinmonts and the Wire Fox Terrier.
The Lakeland Terrier breed was also known as Patterdale Terrier, Fell Terrier and Eltewater Terrier, however, it was officially changed to its current name in 1921. Lakeland Terriers were recognized by the AKC in 1934.
Height: The height of a Lakeland Terrier is 14½ inches from withers a mature dog is considered ideal according to the AKC standard. A half an inch taller or shorter is OK.
Weight: Lakeland Terriers weigh approximately 17 pounds (7.7 kg)
Coat Type: The Lakeland Terrier has a dense, weather resistant double coat. The outer coat is wiry and rough and the under coat is soft. Brushing every few days with a hard brush will keep the coat in good condition. Plucking or stripping should be done at least two or three times a year. The Lakeland Terrier is a minimal shedder.
Color: The Lakeland Terrier's coat comes in a variety of colors including wheaten, red, blue, black, liver, blue & tan and black & tan. The tips of the hairs can be black. Also, this breed can also have darker hair somewhat resembling a saddle over its back and down his sides and over the neck and tail.
Temperament: Lakeland Terriers are bold, fearless, friendly and confident. They making a loving companion, they're cheerful and great with children. They get along very well with other pets as long as they have socialized early which is considered extremely important, otherwise they may show dog aggression. Lakeland Terriers do very well with training as they are naturally intelligent and quick learners (although house training can be difficult). These dogs must never be allowed to 'rule the household' – they must always view their owner as their leader. Lakeland Terriers are alert, courageous and protective making them an excellent watch dog. This breed should not be left alone for long periods as they will become bored and may bark incessantly or dig. Lakeland Terriers need daily exercise, although they can find enough by just running or playing around the home or apartment. However, Lakeland Terriers truly love to be outside – that is of course right along with their owner or family playing or going for long walks.
Health Problems: Lakeland Terriers are very healthy and do not have any serious hereditary conditions. The average life expectancy is between 10-12 years, although some Lakeland Terriers can live several years longer.
Special Interests:
• Lakeland Terriers are usually born with a dark coat which then lightens as he matures.
• The Lakeland Terrier was also known as the Patterdale Terrier, Fell Terrier and Eltewater Terrier.
• The name was officially changed to Lakeland Terrier in 1921.
• The Lakeland Terrier breed was recognized by the American Kennel Club in 1934
Classifications:
AKC: Terrier Group
ANKC: Group 2 – Terriers
CKC: Group 4 – Terrier
FCI: Group 3 – Terriers Section 1
KC: Terrier
NZKC: Terrier
UKC: Terriers