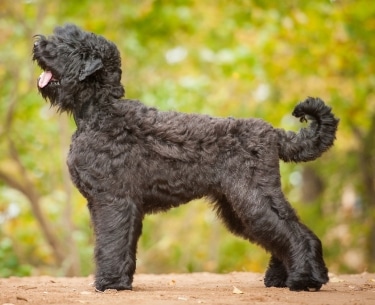 The Black Russian Terrier was developed in the 1950s by the former Soviet Union (Red Star Kennel) for use as a working dog which could withstand the extreme climate. Giant Schnauzer and Airedale crosses were selectively bred with Airedale and Rottweiler crosses and Giant Schnauzer and Rottweiler crosses. The number of breeds in all totaled between 17 and 20 when the breed was finally perfected.
This new breed was exhibited at a large all-Russian Dog show in 1957. Interest was sparked with private breeders and after a few more combinations of additional breeding, the Black Russian Terrier spread to Ukraine and Siberia and then to Finland, Hungary, and Czechoslovakia. and to the United States. It was first exhibited in the United States in 1991.
The Black Russian Terrier is a large, muscular, easy to train and highly intelligent dog. It is a natural guard dog, but its protective instinct is slow to mature and is not present until the breed is between a year and a half to two years.
The Black Russian Terrier was fully recognized by the AKC in the Working Group on July 1, 2004.
Height: Height at withers for a Black Russian Terrier dog is 27-30½ inches tall (68-77 cm) and for bitches 26-28½ inches (66-72 cm).
Weight: The Black Russian Terrier weighs 80 to 143 pounds (36-65 kg)
Coat Type: The Black Russian Terrier's coat is coarse and wiry. Tousled double coat. Undercoat is dense. Coat is weatherproof, slightly waved. It should be between 4-10 cm (1.4-4 inches) in length. The coat should resemble a beard and eyebrows. The Black Russian Terrier is a minimal shedder and basic grooming includes brushing just once a week. Hair from the ear ducts should be removed.
Color: The color of the Black Russian Terrier's coat is black or black with some gray hairs.
Temperament: The Black Russian Terrier is confident, brave, loyal and highly intelligent. Proper socialization and training are necessary, otherwise, Black Russian Terriers can become aggressive. They make great family dogs and they enjoy attention and need stimulation. Black Russian Terriers are eager to please its master. These dogs are protective and make great guard dogs. Black Russian Terriers need to warm up to strangers.
Health Problems: The Black Russian Terrier is a generally healthy and has a life span of between 10 to 14 years. Hereditary diseases which can affect the Black Russian Terrier include hip dysplasia, elbow dysplasia and progressive retinal atrophy.
Special Interest:
• Although 'Terrier' is part of this breed's name, it does not belong to the Terrier group.
• The Black Russian Terrier was developed by the Russian military from these breeds – Giant Schnauzers, Rottweilers and Airedales.
Classifications:
AKC: Working Group 3
ANKC: Utility Group 6
CKC: Terrier Group
FCI: Group 2 – Section 1 Pinscher & Schnauzer type
KC: Working Group
UKC: Utility
Kennel.com Recommends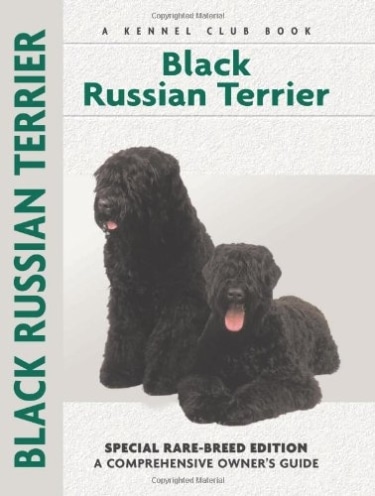 Black Russian Terrier – Rare-Breed Edition