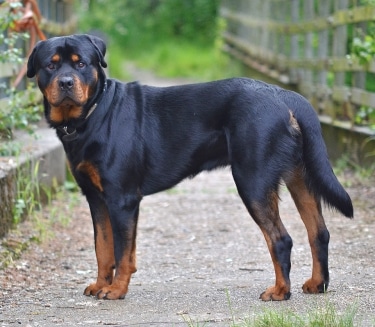 The Rottweiler descends from a line of powerful dogs that drove and guarded the cattle of the Roman Army as it traversed Europe. In Rottweil, Germany, this mastiff-type dog was crossed with local herding dogs and was bred specifically as the "butcher's dog of Rottweil."
The dog would accompany and guard the butcher on the way to cattle sales, carrying his money en route; he would then drive the purchased beef-on-the-hoof home. An effort was made to conserve the breed when mechanized transport replaced the job of the courageous Rottweiler. This breed requires plenty of room and exercise. He is often nicknamed the "Rottie".
Height: The height of a Rottweiler is 22 – 27″ (55.9 – 68.6cm).
Weight: Rottweilers weigh 90 – 110 lbs (40.2 – 49.1 kg).
Coat Type: The Rottweiler's coat is medium length, dense and flat-lying.
Color: The Rottweiler's body color is always black with deep tan or mahogany markings which accent the eyes, cheeks, muzzle, bottom of legs, and each side of the breastbone. The Rottweiler requires regular brushing.
Temperament: The Rottweiler is devoted to his family and is often used as a protection dog. He is not used to excessive handling by strangers, and play with small children should be supervised.
Health Problems: Some health issues the Rottweiler is prone to include hip dysplasia, heart and gastrointestinal problems, ligament damage and bloat. The life expectancy of a Rottweiler is 10 – 12 years and the leading cause of death is cancer.
Special Interest: Rottweilers have proven themselves able police dogs and they take well to obedience training from a young age.
Classifications:
AKC: Group 3 – Working Dogs
ANKC: Group 6 – Utility
CKC: Group 3 – Working Dogs
FCI: Group 2 Section 2 Molossoid breeds
KC: Non-Sporting – Working Group
NZKC: Utility
UKC: Guardian Dog