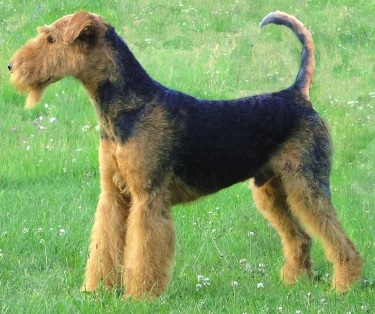 Description: Known as the "King of Terriers," the Airedale Terrier rightly deserves the title. Farmers and fishermen in the area of Yorkshire between the rivers Aire and Wharfe, developed the breed to serve a dual-purpose: they needed a dog that would keep the populations of fish-eating otters and crop-eating rats down. By crossing the Black and Tan Terrier with the Otterhound, the ideal sporting dog was created for the working man of the times.
Although the original dogs of the mid-1800s were a mixed lot, their instincts were strong and true. By selectively breeding the best from each litter, the breed was standardized into the present-day Airedale: neat, tidy, and pleasing to the eye as well. Recognized in England in 1886, the Airedale made its first appearance in North America by the end of the 19th Century. The breed makes a good family pet and should be exercised daily with an outdoor walk.
Height: The height for an Airedale Terrier is 23″ (58.4cm)
Weight: The weight for an Airedale Terrier is between 45 – 60 lbs (20.1 – 26.8 kg)
Coat Type: The coat of the Airedale Terrier is wiry, hard, and lies close to the dog's body. There is a shorter, denser undercoat as well. Colors are tan and black. Grooming required includes "hand stripping" or the occasional trimming to maintain the terrier-look.
Temperament: The Airedale Terrier was bred to be a hard-working dog but also enjoys playing, especially with children.
Health Problems: The Airedale Terrier is generally a healthy dog.
Special Interest: The Airedale Terrier is an able swimmer and enjoys the occasional trip to the lake.
Classifications:
AKC: Group 4 – Terriers
CKC: Group 4 – Terriers
KC: Sporting – Terrier Group
FCI: Group 3
ANKC: Group 2 – Terriers
Kennel.com Recommends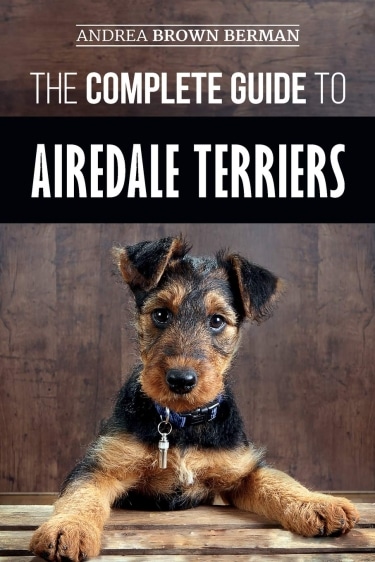 Guide to Airedale Terriers