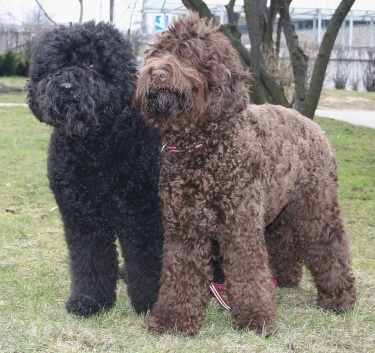 Barbet first established their reputation as an extraordinary waterfowl retriever in the marshes, wetlands, and estuaries of 16th century France. Between the late 18th to early 19th centuries, the breed was known as the Barbet in France, the Barbone in Italy, and the Pudel in Germany.
This medium-sized breed is known for it's dense curly coat and is believed to be the common ancestor of many modern water dogs including the Poodle, the Portuguese Water Dog and the American Water Spaniel. They make excellent family pets.
Weight: 37–62 lb (17–28 kg)
Height: Male: 58–65 cm (23–26 in) Female: 53–61 cm (21–24 in)
Coat: Thick, long, woolly, wavy, and curly.
Color: Black, White, Fawn, Grey, Brown.
Life span: 13–15 years
Temperament: Friendly, Intelligent, Obedient, Sweet.
Health:  Ear infections, hip dysplasia, hernias, undescended testicles, undershot/overshot bites, entropia and epilepsy.
Special Interest:
• Appears in French artwork as early as the 16th century
• For almost a 100 years Barbets and Poodles were considered the same breed.
• Name comes from the French word barbe, which means 'beard'.
Classifications:
FCI: Group 8, Section 3 Water Dogs #105
AKC: Sporting
CKC: Group 1-(Sporting)
UKC: Gun dog