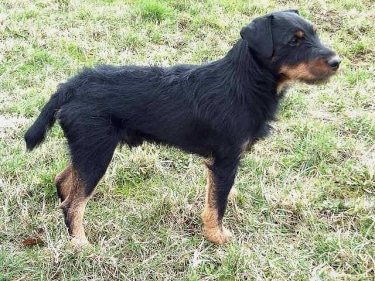 The Jagdterrier (English: German Hunt Terrier) is a breed of working terrier, originating in Nazi Germany, that is used for hunting quarry both above and underground.
During that rise of Nazism, Germans focused on breeding animals that were more representative of Germanic heritage and mythology. One of these Germans was Lutz Heck, the curator of the Berlin Zoo and a friend of Adolph Hitler.  He developed the Jagdterrier by crossbreeding the Welsh Terrier, Old English Terrier, Fox Terrier, Pinscher and Dachshund, but the breed wasn't finalized until after WWll.
The result was a curious mix too large to chase a fox into a den, but too small to stand a chance against a bear or wild boar. Regardless, due to its reputation for intelligence and fearlessness, the Jagdterrier has become popular with hunters for its outstanding ability to flush out game.
Weight: Male: 20–22 lbs (9–10 kg) Female: 17–19 lbs (7.5–8.5 kg)
Height: Male: 13–16 inches (33–40 cm) Female: 13–16 inches (33–40 cm)
Coat: Short, hard and wiry.
Color: Black and Tan.
Life span: 12-15 years
Temperament: Intelligent, Reliable, Strong Willed, Adaptable, Courageous.
Health: Exceptionally healthy breed.

Special Interest:
• Jagdterrier is pronounced, Yack Terrier.
Classifications:
AKC: FSS
ANKC: Group 2 (Terriers)
NZKC: Terrier
UKC: Terriers
FCI: Group 3 Terriers, Section 1 Large/medium-sized #103
Kennel.com Recommends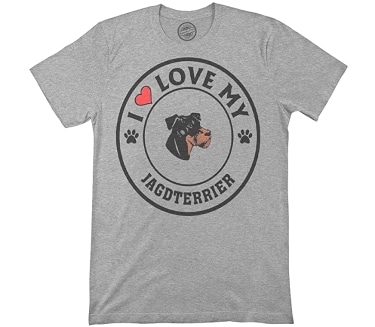 I LOVE MY JAGDTERRIER T-SHIRT