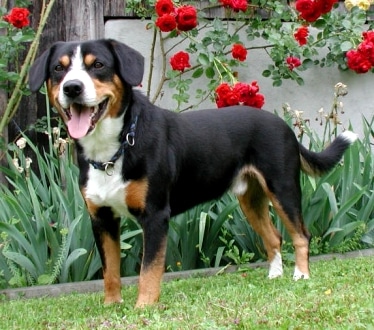 The Entlebucher Mountain Dog or Entlebucher Sennenhund is a medium-size herding dog from the Swiss Alps. The name Sennenhund refers to people called Senn, mountain herders in the Appenzell region of Switzerland. Entlebuch is a region near Lucerne in Switzerland.
There are four breeds of Sennenhund. In addition to the Entlebucher Mountain Dog (Entlebucher Sennenhund), there are the Greater Swiss Mountain Dog (Grosser Schweizer Sennenhund), Bernese Mountain Dog (Berner Sennenhund) and Appenzeller Mountain Dog (Appenzeller Sennenhund).
Legend has it that the Sennenhund dogs descended from cattle dogs brought by the Romans in the 1st century B.C. The Entlebucher Mountain Dog was recognized internationally as a separate breed by the American Kennel Club in 2010.
The Entlebucher Mountain Dog was originally kept for guarding and herding, but the breed is now usually kept for companionship.
Weight: 45-65 lbs (20–30 kg)
Height: 19-20 ins (48–50 cm)
Build: Sturdy, Molosser-like.
Color: Distinctive black, brown and white (tri-color).
Life span: 11–15 years
Appearance: The female Entlebucher Mountain Dog is sturdy, medium-sized dog. It has small, triangular ears and small brown eyes. The head is well proportioned to the body, with a strong flat skull. The long jaw is well formed and powerful. The feet are compact, supporting its muscular body. The smooth coat is close and smooth with symmetrical markings of black, tan, and white. This tricolor coat has white on its toes, tail-tip, and the chest and blaze where the fur is soft and fluffy; the tan always lies between the black and the white. It has muscular, broad hips.
Temperament: Intelligent, affectionate, athletic, protective, suspicious of strangers.
Health: Because of in-breeding from a small starting stock, Entlebuchers suffer from congenital defects, the most common of which is hip dysplasia followed by Hemolytic Anemia and Progressive Retinal Atrophy (PRA). The National Entlebucher Mountain Dog Association (NEMDA) is working to contain these issues.
Special Interest:
• May be descended from the extinct Molossus that was immortalized in Roman statues.
• There were only 16 Entlebucher Mountain Dogs in 1927 when they began rebuilding the breed.
Classifications:
AKC: Herding
CKC: Group 3 – Working Dogs
FCI: Group 2, Section 3 Swiss Mountain and Cattle Dogs #47
UKC: Working
Kennel.com Recommends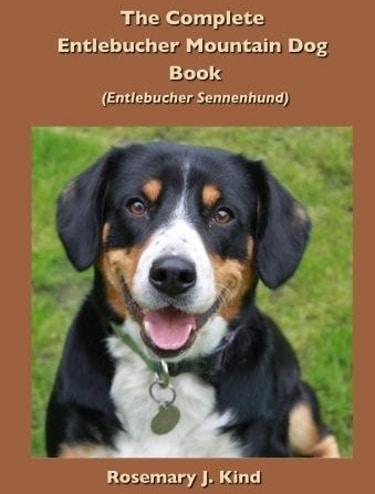 The Entlebucher Mountain Dog