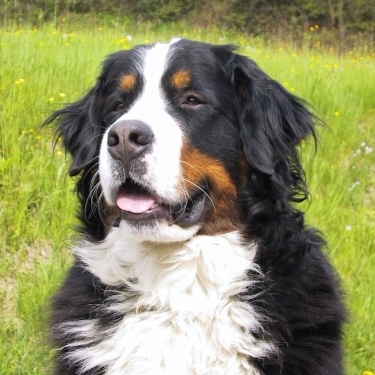 Description: The Bernese Mountain Dog or Berner Sennenhund is a hardy breed likely to have originated in the Swiss mountains.
There are four breeds of Sennenhund, in addition to the Bernese Mountain Dog (Berner Sennenhund), there are the Greater Swiss Mountain Dog (Grosser Schweizer Sennenhund), Entlebucher Mountain Dog (Entlebucher Sennenhund) and Appenzeller Mountain Dog (Appenzeller Sennenhund).
There was a time before WWI when the population of Bernese Mountain Dogs dwindled. However, thanks to Professor Albert Heim, Franz Schertenleib and others who all worked together to revive and stabilize this breed.
The Bernese Mountain Dog was named after the Berne canton of Switzerland where these dogs are widely known. The breed was first brought to the United States in 1926 and it acquired AKC recognition in 1937.
Height: 24-28 inches (61-71cm)
Weight: 85-120 pounds (38-55kg)
Coat Type: The Bernese Mountain Dog's coat is thick, moderately long and can be straight or slightly wavy. The coat has a bright, natural sheen and is soft and silky. The Bernese Mountain Dog's undercoat is fairly dense and is protective against weather and dirt. Extremely curly or extremely dull coats are severe faults. Daily brushing of the Bernese Mountain Dog's coat during shedding is necessary and weekly brushing otherwise to keep the coat in good shape. Shedding occurs year round with heavier seasonal shedding.
Color: The Bernese Mountain Dog has three colors – a base color of jet black with rich reddish brown and clear white markings. White markings specifically on the head are not desired.
Temperament: The Bernese Mountain Dog is good-natured, friendly, cheerful intelligent and good with children. The Bernese Mountain Dog is alert and makes a good natural watchdog. They do best with people as opposed to being left in a backyard. Bernese Mountain Dogs are sensitive which should be remembered when training.
Health: The average life span of a Bernese Mountain Dog is between 7 and 8 years. This age has gone down from a life span of 'up to 15 years' and research is being conducted to find out why. Cancer is the leading cause of death for this breed.
Special Interest:
• The Bernese Mountain Dog acquired AKC recognition in 1937.
• Bernese Mountain Dog's ancestors were brought into Switzerland by invading Roman soldiers over two thousand years ago
Classifications:
AKC: Group – Working
CKC: Group 3 – Working Dogs
KC: Working
FCI: Group 2 Section 3 #45 and 46
ANKC: Group 6 – Utility
UKC: Guardian Dogs
Kennel.com Recommends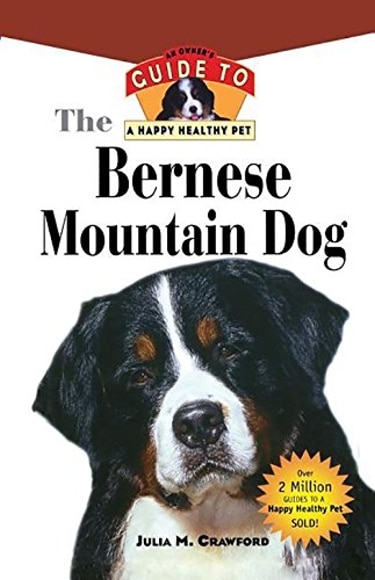 Bernese Mountain Dog