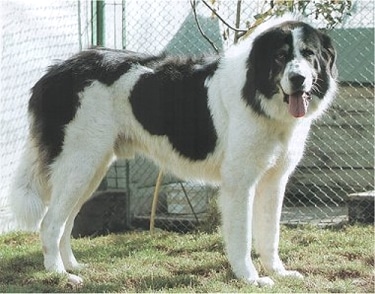 Developed over many centuries by shepherds in Bucovina, a region in north Romania, the Bucovina Shepherd Dog is one of the largest and most powerful rustic livestock guardian dogs in Europe. It is similar to other livestock guardian breeds of the region such as the Šarplaninac and Tornjack.
The Bucovina Shepherd Dog was traditionally bred to protect flocks of sheep from the bears, lynx, wolves, and human bandits that inhabit its home in the Carpathian Mountains
The first standard was written in 1982 (updated 2001) by the Romanian Kennel Club (Asociatia Chinologica Romana), and was formally recognized by the Fédération Cynologique Internationale (FCI) in 2019.
Height: Female: 25–28 in (64–72 cm) Male: 27–31 in (68–78 cm)
Weight: Female: 70–90 lbs (32–41 kg) Male: 70–90 lbs (32–41 kg)
Coat Type: Long, thick, dense, straight and harsh.
Color: Black & White, Brindle & White, Gray & White.
Litter size: 5-12 pups
Life span: 10-12 years
Temperament: Devoted, Calm, Courageous.
Health Problems: Healthy and hardy breed. No major health issues.
Special Interest:
• Also known as the Bucovina Sheepdog, Bucovina Shepherd, Southeastern European Shepherd.
• One of the four types of Romanian shepherd dogs that also include the Mioritic (Barac), Carpathian Shepherd Dog (Zăvod) and the Romanian Raven Shepherd Dog.
Classifications:
FCI: Group 2, Section 2.2 Molossian: Mountain type #357
Kennel.com Recommends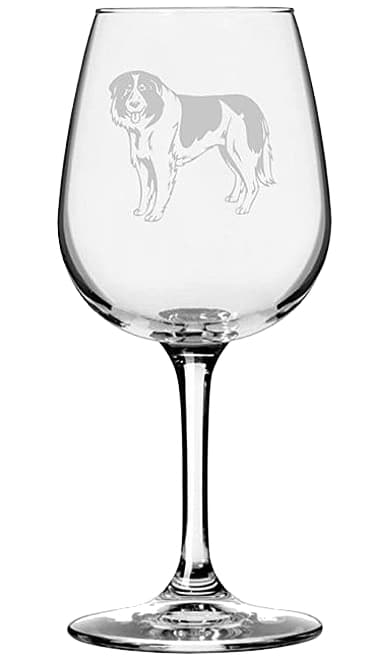 BUCOVINA SHEPHERD DOG WINE GLASS