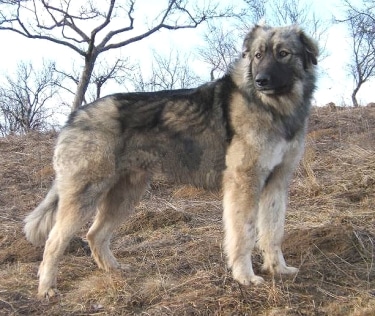 The Carpathian Shepherd Dog (Romanian: Ciobănesc Românesc Carpatin) is a large breed of wolf-like sheep dog that originated in the Carpathian Mountains of Romania to protect flocks from wolves and bears.
It is said that the shepherd dogs in Rucăr, Romania are considered to be the purest ancestors of today's Carpathian Shepherd Dog.
The first standard was elaborated by The National Zootechnical Institute in 1934 and the breed was formally recognized by the United Kennel Club in 2006.
Height: Male: 26-29 in (65-73 cm) Female: 23-26 in (59-67 cm)
Weight: Male: 88-99 pounds (40-45 kg) Female: 71-77 pounds (32-35 kg)
Coat Type: Rough. dense and straight.
Color: Pale Fawn with Gray or Black fur in varying shades.
Litter size: 5-10 pups
Life span: 12-14 years
Temperament: Loyal, Independent, Fearless, Devoted, Calm, Courageous.
Health Problems: May be susceptible to hip and elbow dysplasia, bloat, eye problems, and arthritis.
Special Interest:
• According to local legend, the breed is part wolf.
• Also known as the Romanian Shepherd, Romanian Carpathian Shepherd, Câine Ciobănesc Carpatin, Carpathian Sheepdog, Carpathian Shepherd, Carpatin, Romanian Carpatin Herder.
• One of the four types of Romanian shepherd dogs that include the Mioritic (Barac), Bucovina Shepherd Dog and the Romanian Raven Shepherd Dog.
Classifications:
FCI: Group 1 Herding dogs, Section 1 Sheepdogs #350
UKC: Herding Group
Kennel.com Recommends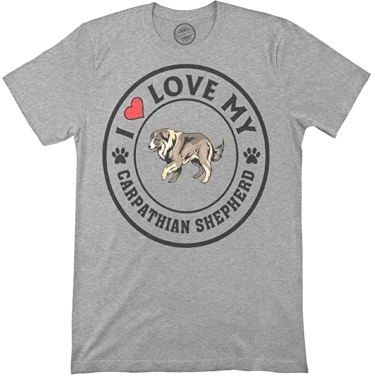 I LOVE MY CARPATHIAN SHEPHERD