Lassie is a fictional canine created by English author Eric Mowbray Knight (1897-1943) in 1938 for a short story in The Saturday Evening Post titled Lassie Come-Home that was expanded and published as a full-length novel in 1940. Knight wrote the short story and novel on his farm in Pennsylvania.
Come-Home is hyphenated because it alludes to a false accusation in the novel that Lassie was trained to escape from his new owners and return to his breeder, thus making him a come-home dog that could be resold again.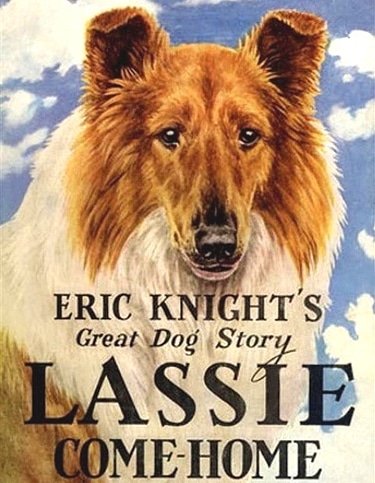 The novel was a critical and commercial success, winning the Young Readers Choice Award in 1943. That same year, MGM released Lassie Come Home (no hyphen) starring Roddy McDowall, Donald Crisp and Elizabeth Taylor, and featuring a three-year-old Rough Collie named Pal playing the part of Lassie.
Lassie Come Home netted a profit of over $2,000,000 and Pal soon starred in six more Lassie films for MGM: Son of Lassie (the sequel to Lassie Come Home), Courage of Lassie, Hills of Home, The Sun Comes Up, Challenge to Lassie, and The Painted Hills.
Ironically, Pal had not been the first choice to play Lassie. In fact, he was never seriously considered. He was among 1,500 dogs who auditioned for the role, but was rejected outright because he was male, his eyes were too big, his head too flat, and a white blaze ran down his forehead. A female prize-winning Rough Collie won the part and Pal was relegated to a stunt dog.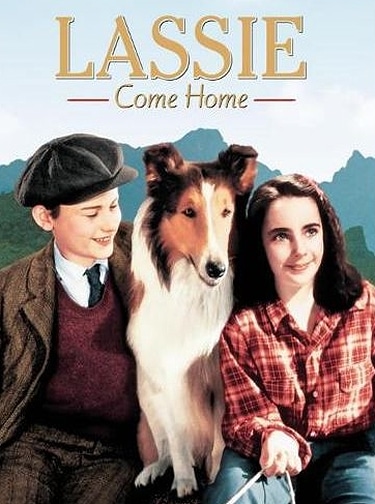 During filming, director Fred M. Wilcox wanted to take advantage of the recent flooding of the San Joaquin River in central California, but the female dog refused to enter the raging waters.
Pal's trainer and owner, Rudd Weatherwax, offered to have Pal perform a difficult five-stage shot that would require the dog to not only swim in the turbulent river, but drag himself out, lie down without shaking the water off his coat, and crawl along on his side before finally collapsing motionless, completely exhausted.
Amazingly, Pal flawlessly executed all five stages in only one take. Director Wilcox was speechless. He hired Pal on the spot as Lassie and re-filmed the entire first six weeks of production.
Following the last MGM Lassie film, The Painted Hills in 1951, Rudd Weatherwax wisely obtained the Lassie name and trademark in exchange for $40,000 owed him by the studio. Television producer Robert Maxwell had convinced Weatherwax that Pal's future was in television, so they created a heartwarming story about the bond between a boy and his dog struggling to survive on a farm in mid-America. It was simply titled, Lassie.
The role of the boy, Jeff Miller, was narrowed down by their casting director to three child actors, but Rudd Weatherwax insisted that Pal make the final choice. After spending a week with the three boys at his North Hollywood home, Weatherwax noticed that Pal gravitated towards eleven-year-old Tommy Rettig.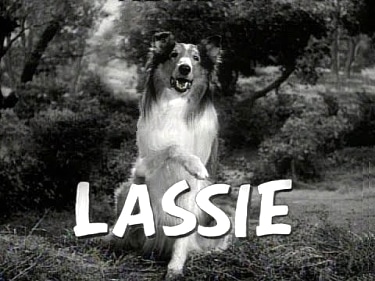 Rettig won the role and two pilots were filmed in Calgary, Canada in the summer of 1954. CBS was impressed and signed what would eventually become one of America's longest and most beloved television series, running nearly twenty years from September 12, 1954 until March 25, 1973.
Pal filmed the two pilots, but was not in the series. He was retired, given the nickname The Old Man and replaced by his three-year-old son, Lassie Junior. Regardless, Pal would come every day to Stage One of KTTV in Los Angeles to watch his son perform from a bed behind the set.
Tommy Rettig recalled, "When Rudd would ask Lassie Junior to do something, if you were behind the set, you could see The Old Man get up from his bed and go through the routine back there."
By 1957, Pal's health was failing. He was becoming blind and deaf, and rarely visited the set. On June 18, 1958, Pal, the original Lassie, died of natural causes at the age of eighteen. Rudd Weatherwax, his lifelong owner and trainer, was emotionally devastated and fell into a severe depression.
His son, Robert, said, "It hit him very hard when Pal died. He buried him in a special place on the ranch and would often visit the grave. Dad would never again watch an MGM Lassie movie. He just couldn't bear to see Pal. He didn't want to have to be reminded of just how much he loved that dog."