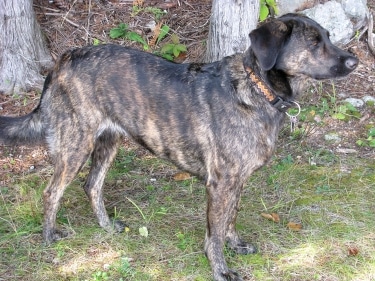 Originating in the Ozarks and Appalachian Mountains, the Treeing Tennessee Brindle is a breed of cur known for its superior sense of smell, speed and treeing ability.
In in the early 1960s, Reverend Earl Phillips, a columnist for a hunting dog magazine, became aware of an extraordinary hunting and treeing dog with a brown coat that was tiger-striped with black. He organized their owners to preserve and promote them as a new breed and in 1967 established the Treeing Tennessee Brindle Breeders Association.
The Treeing Tennessee Brindle's records have been maintained through the American Kennel Club's Foundation Stock Service Program (FSS) since 1995.
Weight: Male: 35-50 lb (16-23 kg) Female: 30-40 lb (14-18 kg)
Height: Male: 18-24 in (46-61 cm) Female: 16-22 in (41-56 cm)
Coat: Short and soft.
Color: Brindle or Black with brindle trim.
Life span: 10-12 years
Temperament: Affectionate, Intelligent, Sensitive, Courageous.
Health: Healthy and hardy breed. Some may be susceptible to hip dysplasia, bloat, obesity and ear infections.

Special Interest:
• Looks similar to the Plott Hound, but is smaller with less expansive ears.
Classifications:
AKC: FSS