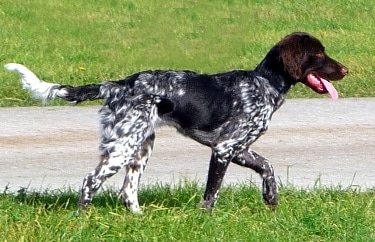 Descended from 13th century dogs bred exclusively for nobility to work with falconers, the Small Münsterländer (German: Kleiner Münsterländer) is an extremely versatile hunting-pointing-retrieving (HPR) breed that was developed in the region around Munster, Germany in the mid-19th century.
The Small Münsterländer can hunt, point and retrieve woodcock, rail, grouse, dove, partridge, chukar, quail, pheasant, duck, goose, rabbit, deer and fox.
Weight: Male: 40–60 lbs (18–27 kg) Female: 40–60 lbs (18–27 kg)
Height: Male: 20–23 inches (50–58 cm) Female: 19–22 inches (48–56 cm)
Coat: Medium-length. Thick and wavy.
Color: Brown Roan, White & Chocolate.
Life span: 12-14 years
Temperament: Affectionate, Intelligent, Strong Willed, Happy, Trainable, Attentive.
Health: Healthy breed. Some may be susceptible to hip dysplasia, ear infections and skin problems.

Special Interest:
• Also known as the Small Münsterländer Pointer.
• Equally effective in salt or fresh water.
• Makes an excellent family companion.
• Related to the French Spaniel and Dutch Partidge Dog
• The Large Münsterländer is from the same area, but was developed from different breeding stock and is not related.
Classifications:
AKC: FSS
CKC: Miscellaneous
KC (UK): Gundog
UKC: Gun Dog
FCI: Group 7, Section 1.2 Continental Pointing Dogs: Spaniel type #102