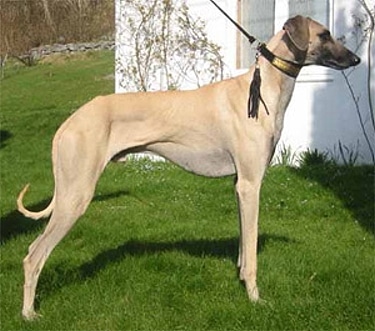 The Sloughi (SLOO-ghee), nicknamed the "Arabian Greyhound," is a classically constructed sighthound of ancient lineage, originally bred to hunt African game such as hare, fox, jackal, gazelle, and wild pigs (in the United States they've been used to hunt coyotes).
A regal sighthound, the Sloughi can be aloof with strangers, but is supremely loyal and affectionate with loved ones.
This is a lean, lightning-fast hound that originated in Morocco and is also popular today in Algeria, Tunisia, and Libya. The Sloughi's big, dark, Arabian eyes are often described as "melancholy."
Weight: 35–65 lb (15.8–29.4 kg)
Height: Female: 24–27 inches (61–68 cm), Male: 26–28 inches (66–72 cm)
Coat: Short-haired
Color: Black, Brindle, Fawn, Sandy.
Life span: 12–16 years
Temperament: Intelligent, Affectionate, Alert, Faithful, Sensitive.
Health: Sensitive to anesthesia. Susceptible to Bloat and Progressive Retinal Atrophy (PRA).
Special Interest:
• The Sloughi received full recognition by the American Kennel Club in 2016.
• The Sloughi, Saluki, and Azawakh look similar, but the Sloughi is more related to the Azawakh.
Classifications:
AKC: Hound
ANKC: Group 4 (Hounds)
KC (UK): Hounds
NZKC: Hounds
UKC: Sighthound & Pariah