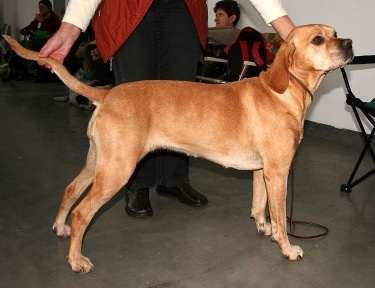 Documented to at least the early twelfth century, the medium-size Portuguese Pointer (Portuguese: Perdigueiro Português) was developed as a gun dog and is mainly used to hunt small game, especially the red-legged partridge.
Initially bred in royal kennels to be used in falconry, the breed became popular as a hunting dog for the lower classes of Portuguese society.  In the 18th century, English wine merchants established a presence in the Oporto region (the home of Port wine) and took the Portuguese Pointer back to England where it was used to develop the English Pointer.
The standard for the Portuguese Pointer was established in 1938. It is interesting to note that the breed has retained the same square head, marked stop, triangular ears and compact look for almost a thousand years,
Weight: Male: 44–60 lbs (20–27 kg) Female: 35–49 lbs (16–22 kg)
Height: Male: 20–24 inches (52–60 cm) Female: 19–22 inches (48–56 cm)
Coat: Short and course.
Color: Light yellow, Red yellow or Yellow. Solid or with white markings.
Life span: 12-14 years
Temperament: Affectionate, Lively, Calm, Submissive.
Health: Healthy breed. Some may be susceptible to hip dysplasia, patellar lunation, cancer, and autoimmune diseases.

Special Interest:
• Used in the creation of the Golden Retriever.
• Accompanied Portuguese explorers on their ships during their discovery of the Americas in the 16th century.
Classifications:
AKC: FSS
UKC: Gun Dogs
FCI: Group 7, Section 1.1 Continental Pointing Dogs: Pointer type #187