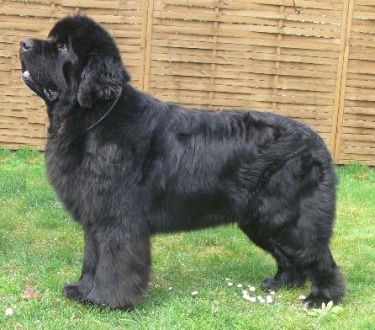 Newfoundlands are strong, heavy coated, large working dogs well known for their sweet and gentle disposition. Most agree the breed originated in Newfoundland, although its ancestry is up for debate. Some believe he descended from the Great Pyrenees or perhaps from dogs indigenous to the island and big black Viking bear dogs. It's also said the Newfoundland may be related to the Labrador Retriever.
The Newfoundland is a true working dog. His tasks include pulling nets for fishermen and hauling loads as a pack horse. They were and still are used as a lifeguard because of their size, great strength, lung capacity and excellent swimming ability.
The Newfoundland was recognized by the American Kennel Club in 1886 and is categorized in the Sporting Group.
Height: The average height for an adult Newfoundland male is 28 inches (71.1 cm) and the average height for an adult female is 26 inches (66 cm)
Weight: The weight for an adult Newfoundland male can range between 130 to 150 pounds, (59-68 kg) and for a female between 100 and 120 pounds (45-54 kg).
Coat Type: Newfoundlands have a thick double coat which is water resistant. The outer coat is coarse, moderately long and can be straight or have a slight wave. The undercoat is dense and soft. Newfoundlands shed in the spring and fall. To keep the coat in good condition, brush daily or at least weekly with a long tooth steel comb and a wire slicker brush with bristles bent at the end.
Color: The color of the Newfoundland's coat can be black, brown, gray and white & black (AKC standard).
Temperament: The most well known characteristic of the Newfoundland breed is their sweet, kind, benevolent nature. These dogs are incredibly patient, gentle and playful with children. Newfoundlands are obedient, devoted and eager to please its master. They are courageous and will protect their family. All those who pose no threat to the family are warmly welcomed by a Newfoundland. Obedience training should be introduced early – two months of age is considered ideal. Training should be done in a calm, confident, consistent and positive manner. Newfoundlands are very intelligent. This breed loves to be outdoors and love to swim (have webbed feet). Newfoundlands are active and enjoy to frolic and take daily walks.
Health Concerns: Newfoundlands are prone to hip / elbow dysplasia and hereditary heart disease called sub-aortic stenosis (SAS) which can cause sudden death at a young age. They are also prone to cystinuria which is an inherited metabolic disorder that results in the excessive excretion of certain amino acids, esp. cystine, in the urine which can sometimes cause formations of stones in the urinary tract.
Special Interest:
• The Newfoundland is also referred to as Newf, Newfie and Black bear. This breed is known as "The Gentle Giant" because of its incredibly sweet and kind disposition.
• Presidents James Buchanan, Rutherford B. Hayes and Ulysses S. Grant were all owners of a Newfoundland.
• The Newfoundland has webbed feet.
Classifications:
AKC: Working Group
ANKC: Group 6 – Utility
CKC: Working
FCI: Group 2 – Section 2 Molossoid breeds
KC: Working Group
NZKC: Utility
UKC: Guardian