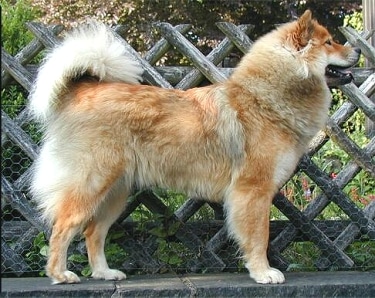 The development of the Eurasier or Eurasian Dog began in Germany in 1960 when Julius Wipfel and Charlotte Baldamus bred a Chow Chow with a Wolfspitz and created a Wolf-Chow. Twelve years later it was crossed with a Samoyed and renamed Eurasier to reflect the breed's European and Asian heritage.
The Eurasier is a medium-sized, Spitz-type dog. In 1973, only one year after the Wolf-Chow was crossed with the Samoyed, the German Kennel Club acknowledged the new breed.
Weight: Male: 51–71 lbs (23–32 kg) Female: 40–57 lbs (18–26 kg)
Height: Male: 20–24 inches (52–60 cm)  Female: 19–22 inches (48–56 cm)
Coat: Long, thick double.
Color: All colors/combinations with exception of pure white, white patches or liver color.
Life span: 12–14 years
Temperament: Intelligent, Family-Oriented, Alert, Even Tempered, Watchful, Calm.
Health: May be susceptible to hip and elbow dysplasia, patellar luxation, autoimmune thyroiditis, and distichiasis (a double row of eyelashes).

Special Interest:
• Like a Chow Chow, Eurasiers can have purple tongues,
• Nobel Laureate Konrad said his Eurasier Babett had the best character of any dog he'd ever known.
• Unethical breeders have tried to pass off a Keeshond/Chow Chow mix as a Eurasier. Though genetically similar, these are not true Eurasians.
Classifications:
AKC: FSS
ANKC: Group 7 (Non-Sporting Group)
CKC: Group 3 – Working Dogs
KC (UK): Utility
NZKC: Non Sporting
UKC: Northern Breed
FCI: Group 5 Spitz and Primitive dogs, Section 5 Asian Spitz and related breeds #291
Kennel.com Recommends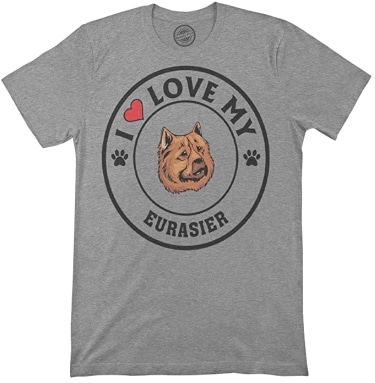 I LOVE MY EURASIER T-SHIRT