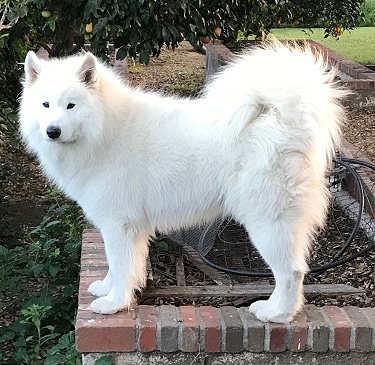 The Samoyed is a medium sized dog with a very thick, silver tipped white coat. By the way his eyes are shaped and the way his lips curl at the corners, it gives him a permanent happy expression often referred to as Samoyed Smile. And, this is a happy breed which remains playful well into his adult years.
The Samoyed has an ancient history traced back to northern Siberia where he was used to herd reindeer, pull sleds and for hunting. He was also highly regarded by the Samoyede tribesmen who cherished them as their faithful companions.
The American Kennel Club officially recognized the Samoyed in the Working Group in 1906.
Height: The height for a Samoyed dog is between 21 to 23½ inches (53 – 60 cm) and for bitches 19 to 21 inches (48 – 53 cm) at the withers. AKC Standard.
Weight: The weight of Samoyed dog is between 45-65 pounds (20½-30 kg) and for bitches between 35-50 pounds (16-20½ kg).
Coat Type: The Samoyed has a very profuse, fluffy, thick and weather resistant coat. The undercoat is short and soft and has longer, harsher hairs growing out above it to form to outer coat. A ruff is formed around the neck and shoulders and is thicker on male Samoyeds. Grooming of the coat includes frequent brushings and a bath when necessary – which for some may be much more frequent than others depending on the the Samyed's environment. The Samoyed is a heavy seasonal shedder.
Color: Colors of Samoyed's coat is pure white, cream or white with biscuit.
Temperament: The Samoyed is very intelligent, independent, alert and friendly. This breed loves people and makes a great companion and is also known to be very good with children. Training must be consistent, firm, yet patient and very positive (much praise is needed for this breed). The Samoyed has a history of always having to fend for themselves therefore developed an instinctive independent nature – which may be mistaken as stubbornness. Samoyeds are playful and remain so through adult life. Daily exercise such as long walks or a jog are necessary. Note: Be careful with too much exercise during hot weather months as the Samoyed's coat is so thick, he may be come overheated.
Health Concerns: Some health issues which can affect the Samoyed include hip dysplasia, Progressive Retinal Atrophy (PRA) and thyroid problems. Also, because of the type of coat the Samoyed has, he can easily become overheated. This breed is also prone to flea and tick allergies. The life expectancy of a Samoyed is between 12 – 15 years.
Special Interest:
• The Samoyed has a happy expression and has been referred to as Samoyed Smile, smiley dog, or Sammy smile. This breed is also nicknamed Sammy.
• In 1911, Samoyeds accompanied Roald Amundsen on his successful journey to the South Pole.
Classifications:
AKC: Working Group
ANKC: Utility – Group 6
CKC: Working – Group 3
FCI: Group 5 Section 1 Nordic Sledge Dogs
KC: Pastoral
NZKC: Utility
UKC: Northern Breeds