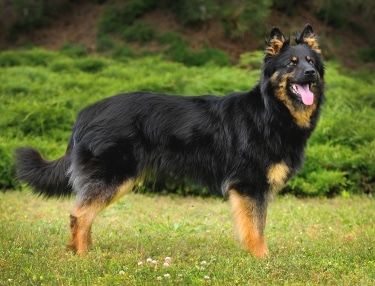 Also known as the Chodský pes or the Chodenhund, the Bohemian Shepherd is an old sheepdog breed that has existed in the Czech lands (Bohemia, Moravia and the Czech Silesia) since the 14th century,
The Bohemian Shepherd became a symbol of national pride due to drawings by the 19th century Czech painter Mikoláš Aleš.
Weight: 35–55 lbs (15.8-24.9 kg)
Height: 194–22 in (48.3–55.9 cm)
Coat: Long and thick with rich undercoat.
Color: Black and tan
Life span: 9–13 years
Temperament: Stable, devoted, intelligent and friendly. Excellent with children.
Health: May be susceptible to hip dysplaysia, elbow dysplasia, bloat and progressive retinal atrophy (PRA).
Special Interest:
• The Bohemian Shepherd is on Czech scout badges.
• Despite the similarity, there is no proof they are related to the German Shepherd.
Classifications:
AKC: FSS
FCI: Group 1, Section 1 Sheepdogs #364 (provisional)
Kennel.com Recommends
CUSTOM BOHEMIAN SHEPHERD T-SHIRT