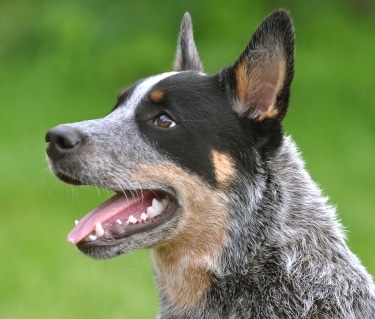 The Australian Cattle Dog or Queensland Blue Heeler is a medium-sized, well-muscled cattle dog descended from the Australian wild dog, the Dingo, and the Northumberland Blue Merle Drovers Dog.
George Hall and his family arrived in the New South Wales Colony in 1802. By 1825, the Halls had established two cattle stations in the Upper Hunter Valley, and had begun a northward expansion into the Liverpool Plains, New England and Queensland. Getting his cattle to the Sydney markets presented a problem in that thousands of head of cattle had to be moved for hundred of miles along unfenced routes through rugged bush and mountain ranges.
A novel droving dog was needed that could withstand the Australian heat over long distances. The colonial working dogs were the Old English Sheepdog type, commonly referred to as Smithfields, who were useful only over short distances and for yard work with domesticated cattle. Thomas Hall imported several dogs used by drovers in Northumberland, England known as the Northumberland Blue Merle Drovers Dog.
Thomas Hall crossed these English dogs with tamed Australian Dingoes and by 1840 was satisfied with the results. During the next thirty years, the Halls Heelers, as they became known, were used exclusively by the Hall family. These superior drover dogs gave him an advantage over other cattle breeders and were not distributed beyond the Hall's properties. It was only after Thomas Hall's death in 1870, when the properties went to auction with the animal stock attached, that the Halls Heeler became available to the public and renamed the Australian Cattle Dog.
Height: Females:  17 to 19 inches (43 to 48 cm). Males: 18 to 20 inches (46 to 51 cm).
Weight: 35 – 50 pounds (16 to 23 kg).
Coat Type: The Australian Cattle Dog has a double coat. The outer coat is smooth, dense and hard. The way the hair lies flat makes the coat weather resistant. The undercoat is fine and resembles a woolly winter coat. The tail is naturally long, carried low, and has a slight white tip. The average length should be from 2.5 to 4 cms (approx. 1-1.5 ins).
Color: The Australian Cattle Dog's coat can be either blue or red speckled along with a variety of coat patterns and markings. The bluish appearance is created by the mottling of black, gray and white hairs all over the body. A red color should be of good even red speckle all over with or without darker red markings on the head – which are desirable. Red markings on the body are permissible but not desirable. For those who want to show their Australian Cattle Dog, large solid-color marks on the body are considered undesirable. Very little grooming and coat maintenance is required.
Temperament: The Australian Cattle Dog is a very active and intently focused dog. The can easily become bored which will often lead to destructive behavior in the home or backyard. Plenty of exercise is necessary – dog sports, playing fetch, dog trick and other activities. Owners need to vary their training sessions and make they exciting so their ACD does not lose interest.
The Australian Cattle Dog was bred to herd with force such as biting and if there's no cattle to herd, they'll do so with toys, kids, cats, neighbors, cars and so on. While at times, it can be cute, it can also be dangerous and annoying since they'll bite out of instinct. This breed bites and chews and any toys left for him to play with needs to be extremely durable otherwise it will end up in shreds. A Rubber Horseball is a good choice. Australian Cattle Dogs will chase squirrels, cats and other small animals. If they're raised with other small animals such as a cat, they'll do OK, otherwise, they can be 'cat killers'.
Training at an early age is important; they need to learn to obey you so they won't be destructive and so they won't get hurt (they'll chase cars!) An owner needs to quickly establish himself as the hierarchy – in the same way as the dog's pack leader. Otherwise, the young pup may bond to another senior dog instead which can create problems with the owner having control. This breed is naturally suspicious of strangers.
The Australian Cattle Dog can bond very closely to its owner, so closely it can be intense. This type of breed needs a lot of attention and is not suited for an owner who is not home often or who does not plan on spending a good deal of time with his Australian Cattle Dog.
Health Problems: The most common health issues for Australian Cattle Dogs are: musculoskeletal (spondylosis, elbow dysplasia, and arthritis) and reproductive (pyometra, infertility, and false pregnancy), and blindness. These findings are based on a sample of 69 (still-living) dogs.
Special Interests:
• Able to withstand heat better than any herding breed.
• The first breed standard for the Cattle Dog breed was published in 1903.
• Ancestor of the the Australian Stumpy Tail Cattle Dog.
Classifications:
AKC: Group 7 – Herding Group
CKC: Herding Group
KC: Pastoral Group
UKC: Herding Dog Group
Kennel.com Recommends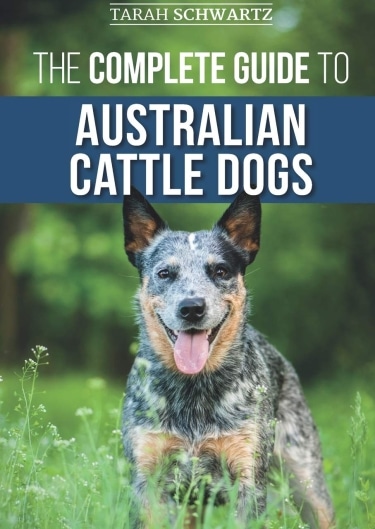 Australian Cattle Dogs