Hi, my name is Sophia and I want to welcome you to Kennel.com!
I'm an eight pound female, tricolor Cavalier King Charles Spaniel who lives with my parents David and Bree, sister Venus Victoria and feline brother Ivan in sunny Flagler Beach, Florida. The red ball in my mouth is my favorite toy. It's also the third one my parents have bought for me. I know where the other two red balls are, but I'm not saying a word. Dad will ask, "Where's the ball?" and I'll just give a sad expression that says, "No idea. I'm so depressed. I want to die." Then I laugh as dad races out the door to buy me a brand new one. Works every time.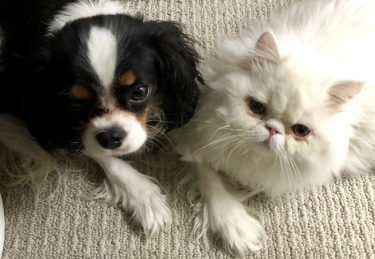 My dad and uncle Michael own Kennel.com, but make no mistake – I call the shots. They told me that I'm the official mascot, but that's not going to fly. First of all, neither one of them speaks canine. And that's no excuse. Even Ivan understands me, but that's a whole other story and I'm not here to discuss cats, especially Ivan. I think mom loves him more than me. There'd better be a dog psychiatry section on this site.
Anyway, I'm looking forward to posting photos of my canine cousins in Atlanta, GA, Murfreesboro, TN, Lake Worth, FL and Laguna Beach, CA!
Peace out,
Sophia