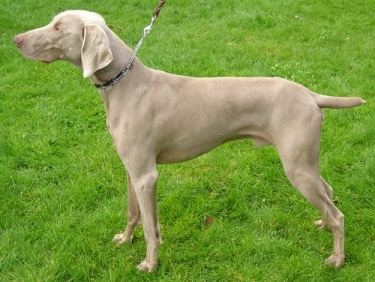 Dogs similar to the Weimaraner have existed in Germany since the 17th Century but it was not until the early 1800s that the breed as we know it today was developed. At the court of the Grand Duke Karl August of Weimar, the breed was bred specifically as an all-purpose hunting dog for the nobility and, once perfected, was closely guarded until 1896.
In that year, the Weimaraner was officially recognized in Germany due to the efforts of a small group of sportsmen. The following year, the same group formed the Weimaraner Club of Germany and only members of the club were allowed to breed the prestigious dog. A similar club was created in America in 1941 by one of the German Club members, and breeding practices and regulations similar to those in Germany were enforced.
The popularity of the Weimaraner has grown in both the States and Canada since the late 1940s and there are now many kennels across the continent. Bred as a hard-working hunter, the Weimaraner enjoys plenty of outdoor activity.
Height: The height of a Weimaraner is 25 – 27″ (63.5 – 63.5cm) for dogs, 23 – 25″ (58.4 – 58.4cm) for bitches.
Weight: Weimaraners weigh 70 – 86 lbs (31.2 – 38.4 kg).
Coat Type: The coat of the Weimaraner is short, smooth, dense and shiny.
Colors: Allowable colors for the Weimaraner's coat include only those shades between mouse-grey and silver-grey. A small white spot is allowed on the chest but nowhere else. Minimal brushing is required to keep the coat groomed.
Temperament: The Weimaraner is alert and courageous, is intelligent and easily trained, and is friendly yet protective. He makes an excellent and loyal family pet.
Health Problems: The Weimaraner, because of its deep chest, is one of the breeds most at risk for gastric torsion (bloat). The average life expectancy for a Weimaraner is 10 – 12 years.
Special Interest: The Weimaraner takes well to obedience training and field trials. While his original quarry when hunting consisted of larger animals, he is mostly used now to track smaller furred or feathered prey.
Classifications:
AKC: Group 1 – Sporting Dogs
ANKC: Group 3 – Gundogs
CKC: Group 1 – Sporting Dogs
FCI: Group 7 Section 1 Continental Pointing Dogs
KC: Sporting – Gundog Group
NZKC: Gundogs
UKC: Gun Dog