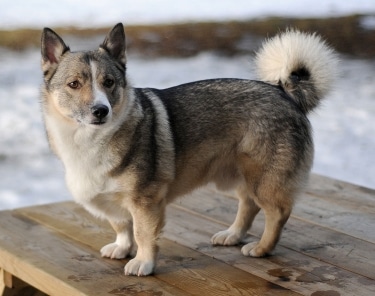 The Swedish Vallhund is an ancient Viking breed of Spitz type dating more than a thousand years ago when they were possibly known as Vikingarnas Dogs. While this breed's exact origin is questioned, it is strongly believed this is an authentic Swedish breed thought to be related to the Cardigan Welsh Corgi due to their similarities.
The Swedish Vallhund is small, sturdy, alert, fearless, energetic and has a fox-like appearance. This breed's coat has characteristic harness markings and facial masks. The Swedish Vallhund is an all purpose farm dog and was most notably used to herd sheep and cattle.
In the early 1940s, Swedish Vallunds were almost extinct. Count Björn von Rosen along with Karl-Gustaf Zettersten took a genuine interest in reviving the breed and through their research, located a few remaining Swedish Vallhunds throughout the countryside of Sweden. Their breeding program was successful and because of their efforts, Swedish Vallhunds are in existance today. Swedish Vallhunds were first recognized as a breed by the Swedish Kennel Club in 1943.
The first Swedish Vallhunds were brought to the United States in 1985 and the Swedish Vallhund Club was founded a couple of years later. In 2007, the Swedish Vallhund was recognized by the American Kennel Club in the Herding Group. While this breed is still used for herding, because of their friendly, sweet and loyal nature, they also make great family dogs and companions. In addition, Swedish Vallhunds are exceptional in agility, obedience and as well as herding for which these dogs have earned titles at conformation shows.
Height: The height of a Swedish Vallhund when measured at the shoulder can be from 11½ to 13½ inches (29 – 34 cm). Females measure slightly shorter than dogs.
Weight: The weight of a Swedish Vallhund can range between 25 – 35 pounds (11 – 16 kg).
Coat Type: The Swedish Vallhund has a medium length double coat. The under coat is dense and soft while top coat is harsh, tight and lies flat. The Swedish Vallhund has a low maintenance coat – brush weekly and bath when needed. This breed's coat should be kept in its natural form.
Color: The color of a Swedish Vallhund coat can be any color or shade from gray to red.
Temperament: The Swedish Vallhund is friendly, sweet, energetic and alert. This a wonderful breed with children and also a great, devoted companion. They are intelligent, eager to please and do very well in training – which is a must as well as being properly socialized. Swedish Vallhunds are adaptable and get along with other dogs. A Swedish Vallhund owner must be his pack leader – always dominant which will help prevent behavior issues. This breed has is playful and humourous. Swedish Vallhunds are also very alert and will bark at something which is out of the ordinary making them a great watch dog. This breed should be exercised daily – walks, running or simply playing are all considered ideal.
Health Concerns: The Swedish Vallhund is a healthy and hearty. Although their life expectancy is between 13 – 15 years, it's not uncommon for them to live up to age of 18.
Special Interest:
• Vallhund means herding dog in Swedish.
• Swedish Vallhunds are also referred to as Little Viking Dogs.
• Swedish Vallhund can have either a stub or long tail.
• Swedish Vallhunds are used today as therapy dogs as well as in Search and Rescue.
Classifications:
AKC: Herding Group
ANKC: Working Dogs Group 5
CKC: Herding Dogs Group 7
FCI: Group 5 Section 3 Nordic Watchdogs and Herders
KC: Pastoral
NZKC: Working
UKC: Herding Dogs