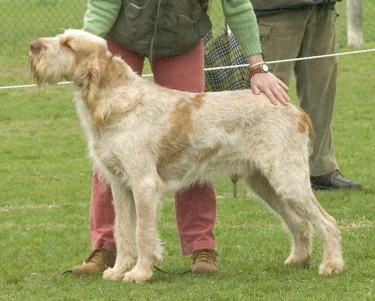 The Spinone Italiano is large, sturdy and muscular. This is a rugged dog well equipped with a dense, weather resistant coat and thick skin which all help him endure tough terrain (specifically thorny underbrush) as well as harsh climates. The Spinone Italiano is an ancient breed which is believed to have been developed in Northern Italy. It is one of the oldest gun dog breeds with ancestors which could have possibly originated in any of these European nations: Italy, Russia, Spain, France or Celtic Ireland.
Prior to the early 19th century in Italy, the Spinone Italiano was known as Spinoso – which comes from the word 'pino' meaning an Italian thorn bush. The pino was a safe haven for small game from large animals, yet the Spinone Italiano had little trouble penetrating this type of harsh brush which was his specialty.
The Spinone Italiano is a versatile, all purpose hunting dog with a keen sense of smell and soft mouth and most commonly utilized for hunting in dense, tough cover as well as retrieving from water. Although still popular as a hunting dog in many parts of Europe, it is makes for a great family pet and companion. The Spinone Italiano was recognized by the American Kennel Club in the Sporting Group in 2000.
Height: The height of the Spinone Italiano can range from 22 to 27 inches (56 – 69 cm) tall at the shoulder. Bitches are slightly shorter – 22 to 25 inches (56 – 64 cm) AKC Standard
Weight: The weight for a Spinone Italiano can range from 61 – 85 pounds (28 – 39 kg). This breed has a square build.
Coat Type: The coat of the Spinone Italiano is harsh, dense, lies flat and is weather resistant. There is no undercoat. The preferred length of the coat is 1½–2½ inches (4–6 cm) on the body, but shorter on the head, ears, muzzle and the front of the feet and legs. The Spinone Italiano's coat should be left in its natural state.
Color: The Spinone Italiano's coat can be can be solid white, it also can be white with orange markings or orange roan with or without orange markings. Additional colors include white with brown markings or brown roan with or without brown markings.
Temperament: The Spinone Italiano is docile, affectionate and intelligent. This breed is extremely gentle with children, also known to be playful and patient. The Spinone Italiano is easy to train, learns quickly and wants to please his master. This breed is quiet, not aggressive and is friendly and easy going with all – therefore does not make for a good watch dog. The Spinone Italiano is devoted and wants to be with his family which he thoroughly enjoys. Being a laid back type of breed, exercise such as a casual daily walk or even jogging is good for him. The Spinone Italiano is not a runner or sprinter, but best known for his endurance moving at a slow and steady speed. Note: This breed is known to jump, therefore a very secure fence is recommended for your backyard.
Health Concerns: The Spinone Italiano is generally healthy breed although can be prone to hip dysplasia and bloat. The life expectancy of a Spinone Italiano is between 9 – 12 years (possibly longer).
Special Interest:
• The Spinone Italiano is also referred to as an Italian Pointer, Italian Spinone, Spinone and Italian Coarsehaired Pointer.
Classifications:
AKC: Sporting Group
ANKC: Gundogs Group 3
CKC: Sporting
FCI: Group 7 Section 1.3 Continental Pointing Dogs
KC: Gundog
NZKC: Gundog
UKC: Gun Dog breeds