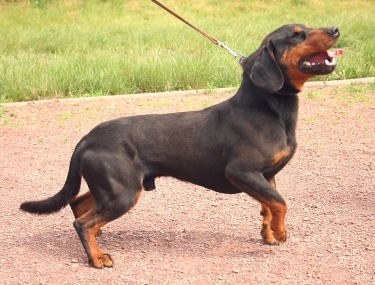 The Slovenský Kopov (English: Slovak Hound) is a medium-sized scenthound that has excelled for centuries in Central Europe hunting wild boar.
Today's version was first recognized in the 1870s, but laws forbidding crossbreeding of the Slovenský Kopov date back to the 17th century. This suggests the dog had earned its reputation and value to hunters well before then.
The Brandlbracke (Austrian Black and Tan Hound), Chart Polski, and Magyar Agar (Hungarian Greyhound) are all believed to have played a part in the breed's history.
In 1963, the Fédération Cynologique Internationale (FCI) accepted the Slovensky Kopov as a hunting dog of the scenthound type.
Weight: 33-44 lbs (15-20 kg)
Height: 16-20 in (40.6-50.8 cm)
Coat: Medium-coarse, tight, dense.
Color: Black and Tan.
Life span: 12-15 years
Temperament:  Loyal, Athletic, Courageous, Alert, Determined.
Health: No major health issues.

Special Interest:
• Also referred to as the Black Forest Hound.
• Kopov is derived from the Hungarian word kopo meaning scenthound.
Classifications:
AKC: FSS
UKC: Scenthound
FCI: Group 6, Section 1.2 Scenthounds: Medium-sized #244