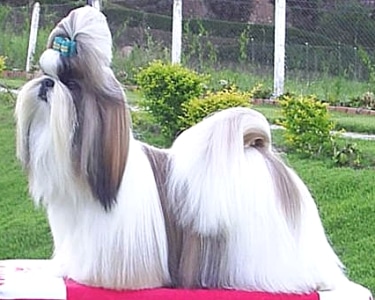 The Shih Tzu descends from the Tibetan temple dogs which were bred over 2000 years ago. Tibetan rulers often presented Chinese rulers with these "tribute gift dogs" and once in China, the dogs, which resembled the Lhasa Apso, were most likely crossed with the Pekingese.
For this reason, many people mistakenly assume that the Shih Tzu, meaning "lion dog," is Chinese in origin. The dogs lived luxurious lives behind palace walls and remained unknown until after China became a republic in 1912. This Shih Tzu is an elegant little dog that makes a well-mannered pet and quite enjoys apartment or city life as long as he is taken for occasional walks.
Height: The height of a Shih Tzu is 9 – 11″ (22.9 – 27.9cm).
Weight: Shih Tzus weigh 10 – 16 lbs (4.5 – 7.1 kg).
Coat Type: The coat of the Shih Tzu is long, dense and straight.
Color: All colors are permissible for the Shih Tzu's coat, with white markings on the forehead and tail tip being most desired, and dark eyes, nose and lips being required. Daily brushing is a must to keep the coat mat-free and soft.
Temperament: The Shih Tzu especially enjoys people and is a lively, alert, and active little dog. Although small, he carries himself with a great deal of pride and confidence.
Health Problems: Health issues that may affect the Shih Tzu include hip dysplasia, liver disease, eye, dental and breathing problems. It's possible for a Shih Tzu to live up to 20 years. It is highly suggested to purchase a Shih Tzu only from a very reputable and responsible breeder.
Special Interest: Although this is one of the oldest breeds of dogs, the Shih Tzu went unnoticed throughout most of the world until the 20th Century. In 1920, an English couple brought the first breeding pair to Britain and, by the 1950s, the breed gained a huge following. The first time a Shih Tzu was shown in the United States in 1969, it took the prize for Best in Show.
Classifications:
AKC: Group 5 – Toys
ANKC: Group 7 – Non Sporting
CKC: Group 6 – Non-Sporting Dogs
FCI: Group 9 Section 5 Tibetan Breeds
KC: Non-Sporting – Utility Group
NZKC: Non-Sporting
UKC: Companion Dog