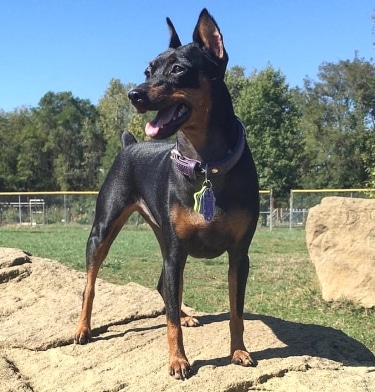 The Miniature Pinscher is not, as many believe, a scaled-down version of the Doberman Pinscher. In fact, the Miniature Pinscher evolved well before the Doberman. The breed has existed in Germany for about 300 years as an efficient barnyard ratter. His ancestors most likely include a combination of smaller German smooth-haired pinschers, the Italian Greyhound and the Smooth Dachshund.
This pleasing little dog's popularity burgeoned toward the end of the 1800s in Germany, and it acquired other fans throughout England and North America shortly after. The Miniature Pinscher is a rugged little dog that enjoys children and light exercise. He adapts well to his surroundings be they in the city or the country.
Height: The height for a Miniature Pinscher is 10 – 12.5″ (25.4 – 31.8cm)
Weight: Miniature Pinschers weigh 8 – 10 lbs (3.6 – 4.5 kg).
Coat Type: The Miniature Pinscher has a short, shiny, stiff coat.
Color: The Miniature Pinscher's coat can be found in solid red, or black or brown with rich tan markings. Very little grooming is required.
Temperament: The "Min Pin" is a spirited and animated creature whose friendly disposition makes him an equally good pet with adults or children.
Health Problems: Miniature Pinschers are a very healthy breed although can be susceptible to patellar luxation and Legg's Perthes Disease. The average life span of Miniature Pinscher is 14 – 17 years.
Special Interest: Possibly due to a cross with the Italian Greyhound, this breed had an unusually distinct yet attractive high-stepped "hackney" gait. This gives the Miniature Pinscher a proud and self-possessed appearance.
Classifications:
AKC: Group 5 – Toys
ANKC: Group 1 – Toy
CKC: Group 5 – Toys
FCI: Group 2 Section 1 Pinscher and Schnauzer type
KC: Non-Sporting – Toys
NZKC: Toy
UKC: Companion Breeds