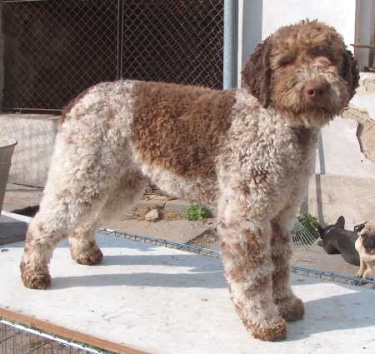 The small to medium-sized Lagotto Romagnolo originated during the Renaissance in the Romagna sub-region of Italy, specifically the lowlands of Comacchio and marshlands of Ravenna. Though traditionally used as a gun dog to retrieve water fowl, it is has earned a worldwide reputation for its amazing ability to find white Italian truffles.
One of the most affectionate breeds, the painting The Meeting (1465-74) by Andrea Mantegna features a small dog in the lower left corner that closely resembles a Lagotto Romagnolo.
Weight: Male: 29–35 lbs (13–16 kg) Female: 24–31 lbs (11–14 kg)
Height: Male: 17–19 inches (43–48 cm) Female: 16–18 inches (41–46 cm)
Coat: Thick and waterproof made of soft, curly hairs.
Color: Brown Roan, Orange & White, White & Chocolate, Off-White, Brown, Orange.
Life span: 15-17 years
Temperament: Loyal, Keen, Active, Companionable, Loving, Trainable.
Health: Long living breed. Some may be susceptible to hip dysplasia, benign juvenile epilepsy (BJE), cerebral anomaly, and neuroaxonal dystrophy.

Special Interest:
• Excellent family companion.
• Considered the world's finest truffle dog.
• The name derives from Romagnol can lagòt, meaning water dog.
• Also called the Romagna Water Dog, Water Dog of Romagna and Lagotto.
Classifications:
AKC Sporting
ANKC Group 3 Gundogs
KC (UK) Gundogs
NZKC Gundogs
UKC Gun Dog
FCI Group 8, Section 3 Water Dogs #298