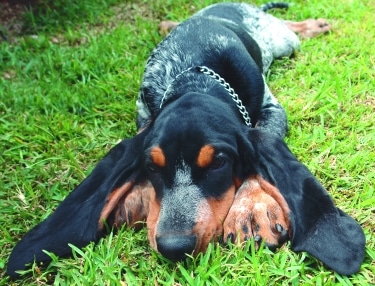 The Grand Bleu de Gascogne is a large, lean and muscular French scenthound of ancient lineage used for hunting in packs. Historically, they tracked deer, wolves, and boar, but today are mostly used to hunt rabbits and hares.
During the 14th century, Comte de Foix kept a pack of Grand Bleu de Gascogne as did Henry IV of France in the 16th and 17th centuries.
The breed has an easily recognizable sonorous, deep howl that George Washington once compared to the bells of Moscow.
Weight: Male: 77–86 lbs (35–39 kg) Female: 77–86 lbs (35–39 kg)
Height: Male: 26–28 inches (65–72 cm) Female: 24–27 inches (62–68 cm)
Coat: Short, thick and very dense.
Color: Black & White, Tri-Color, Blue & Black, Slate Blue.
Life span: 10-12 years
Temperament: Happy, Alert, Well-mannered, Vocal, Courageous, Fast.
Health: No major health issues.

Special Interest:
• In 1785, seven were gifted to George Washington by Marquis de Lafayette.
• The Bluetick Coonhound is a direct descendant.
• There are more Grand Bleu de Gascogne in the United States than France.
Classifications:
KC (UK): Hound
UKC: Scenthound Group
FCI: Group 6, Section 1.1 Scenthounds: Large #22
Kennel.com Recommends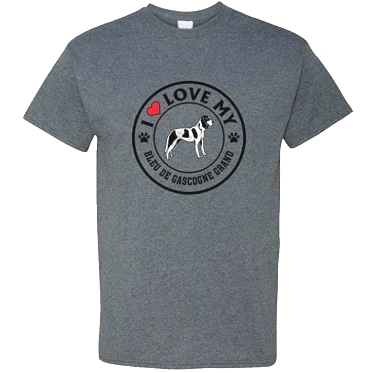 Grand Bleu de Gascogne T-Shirt