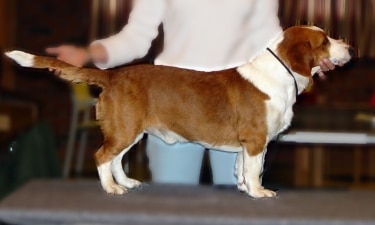 A short-legged scenthound from Sweden used for hunting deer and other game, the Drever is basically a smaller version of the Westphalian Dachsbracke that was imported to Sweden in 1910.
The Westphalian Dachsbracke was developed from the Deutsche Bracke, an ancient German scenthound that was developed from various Bracke-type dogs and local German hounds during the 18th century.
Weight: Male: 31–35 lbs (14–16 kg) Female: 31–35 lbs (14–16 kg)
Height: Male: 13–15 inches (32–38 cm) Female: 12–14 inches (30–36 cm)
Coat: Thick, close-fitting, flat.
Color: Tri-color, Black & White, Red & White, Fawn & White.
Life span: 12–14 years
Temperament: Intelligent, Hard-Working, Self-assured, Keen, Alert, Even Tempered.
Health: Healthy breed. Some musculoskeletal and eye problems.

Special Interest:
• The breed name "Drever" was chosen through a contest in Sweden in 1947.
Classifications:
AKC: FSS
CKC: Canadian Kennel Club Group 2
UKC: Scenthound
FCI: Group 6, Section 1.3 Scenthounds: Small #130
Kennel.com Recommends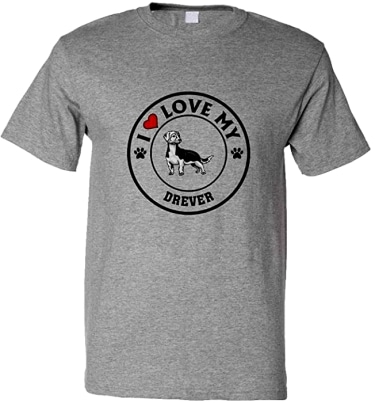 I LOVE MY DREVER T-SHIRT