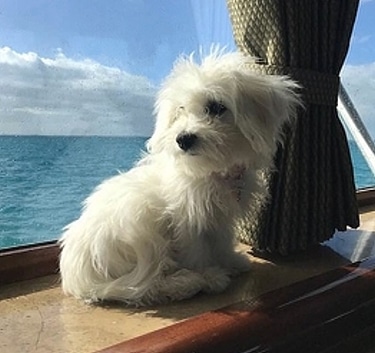 Known for its beautiful cotton-like coat, the Coton de Tuléar is a small, affectionate breed named for the city of Tuléar (Toliara) on the island of Madagascar in the Indian Ocean and is the country's national dog.
The Coton de Tuléar may have originated from a group of small white dogs who swam across the Malagasy channel that separates Madagascar from Mozambique following a shipwreck. It is also theorized that the breed was  brought to Madagascar, a notorious haven for pirates in the 16th and 17th centuries, aboard pirate ships.
The Coton de Tuléar became the favorite of Malagasy royalty and for centuries they were the only people allowed to keep it. Dr. Robert Jay Russell discovered the breed in Madagascar in 1973 and brought the first ones to America, where he coined the phrase, The Royal Dog of Madagascar.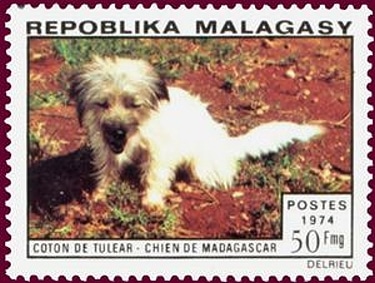 Weight:  Male: 8.8–13 lbs (4–6 kg)  Female: 7.7–11 lbs (3.5–5 kg)
Height: Male: 10–12 inches (25–30 cm)  Female: 9–11 inches (22–27 cm)
Coat: Medium-to-long. Fluffy, cottony. More hair-like than fur.
Color: White, Black, Tri-color, Lemon & White, Black & White, Gray & White.
Life span: 14–16 years
Temperament: Vocal, Affectionate, Intelligent, Lively, Playful.
Health: Healthy breed. Some heart problems, liver shunts, back (disc) problems, and eye problems.

Special Interest:
• Known as the Royal Dog of Madagascar.
• Not officially imported into Europe or America until the 1970s.
Classifications:
AKC: Non-Sporting
CKC: Toy
KC (UK): Toy
UKC: Companion
FCI: Group 9, Section 1.2 Bichons and related breeds: Coton de Tuléar #283
Kennel.com Recommends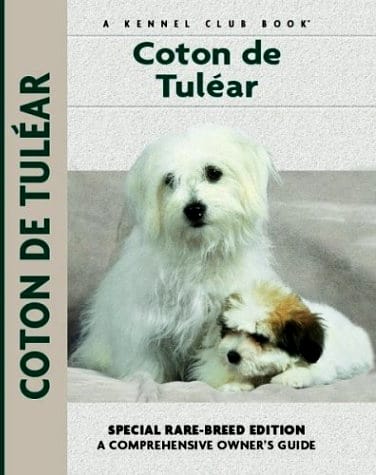 Coton de Tulear – Rare Breed Edition