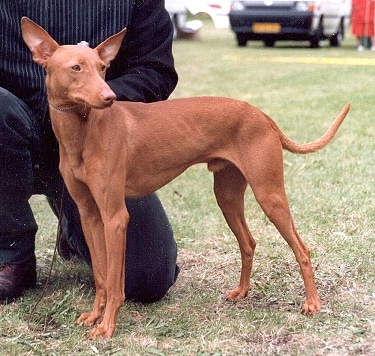 Originally from the Italian island of Sicily, the Cirneco dell'Etna is a fast, small dog historically used to hunt rabbits.
An ancient, hardy breed that can work for hours without food or water, the Cirneco dell'Etna is common throughout Sicily. It was named after the island's Mount Etna, the highest active volcano in Europe, but this part of the breed's name was not added until 1939.
Between the 5th and 2nd centuries B.C., over 150 types of coins depicting the Cirneco dell'Etna were minted in Sicily,  Experts theorize that the Phoenicians shipped the ancestors of these Egyptian-looking dogs from Northern Africa to Sicily.
Weight: Female: 18–22 lbs (8–10 kg) Male: 22–26 lbs (10–12 kg)
Height: Female: 17–20 inches (42–50 cm) Male: 18–20 inches (46–52 cm)
Coat: Short to semi-long on body. Sleek and close. Fine to slightly coarse.
Color: White, Fawn, Sable, Orange & White, Fawn & White, Fawn Sable.
Life span: 12–15 years
Temperament: Affectionate, Friendly, Gentle, Independent.
Health: Extremely hardy and healthy breed.

Special Interest:
• Commonly misnamed the Sicilian greyhound.
• One of the world's oldest breeds going back at least 3,000 years.
• AKC recognized the breed in 2015.
Classifications:
AKC: Hound Group
KC (UK): Hound
UKC: Sighthound & Pariah
FCI: Group 5 Spitz and Primitive dogs, Section 7 Primitive Hunting Dogs #199
Kennel.com Recommends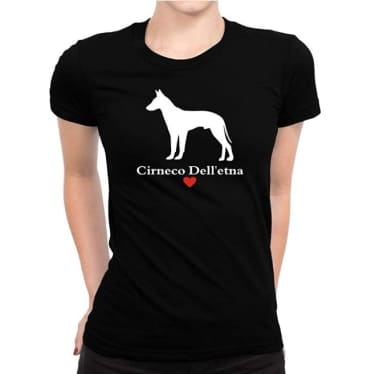 Cirneco dell'Etna T-Shirt