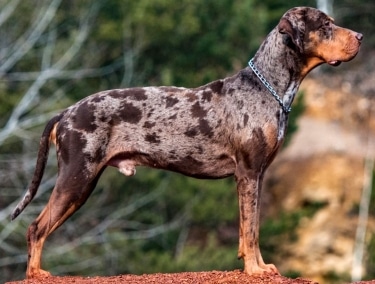 The Catahoula Leopard Dog or Catahoula Cur is named after Catahoula Parish, Louisiana and became the state dog in 1979.
The exact Catahoula lineage is unknown, but may be the result of Native Americans breeding their dogs with greyhounds brought to Louisiana in the 16th century by the Spanish Conquistador Hernando de Soto.
Catahoula Leopard Dogs have been traditionally used to hunt feral boars in the swamps of Louisiana.
There are three lines of early foundation stock for the Catahoula breed:
Wright line: 90–110 pounds (40–50 kg). Developed by Preston Wright (allegedly from descendants of Hernando de Soto's dogs).
Fairbanks line: 65–75 pounds (30–35 kg). Developed by Lovie Fairbanks. Brindle to yellow color.
McMillin line: 50–60 pounds (about 25 kg). Developed by T. A. McMillin. Blue with glassy eye.
Weight: Male: 35–110 lbs (16–48 kg) Female: 35–99 lbs (16–45 kg)
Height: Male: 22–23 inches (56–58 cm) Female: 20–24 inches (51–61 cm)
Coat: Smooth short or coarse medium.
Color: Black, Brindle, Red Merle, Black merle, Yellow, Red.
Litter size: 4-12
Life span: 10–14 years
Temperament: Energetic, Intelligent, Inquisitive, Independent, Loving, Loyal.
Health: Deafness is a major genetic fault. 20% of the breed develops hip dysplasia

Special Interest:
• President Theodore Roosevelt used the Catahoula when hunting.
• Jim Bowie (Bowie Knife / The Alamo) owned a pair of Catahoulas.
• Catahoula is Choctaw for sacred lake.
Classifications:
AKC: FSS
UKC: Herding group
Kennel.com Recommends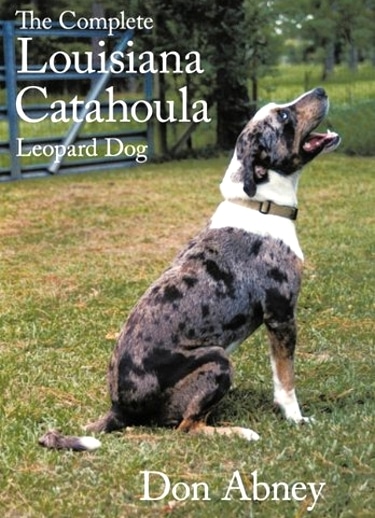 LOUISIANA CATAHOULA LEOPARD DOG