Description: The American Foxhound is a large, handsome hound which was bred to be lighter and taller than its cousin, the English Foxhound. The coat is of medium length, and the texture is harsh. Legs are strong and straight-boned, the chest is narrow, muzzle is long and the eyes – which are either brown or hazel – are large and set well apart. Ears are moderately low and long. The American Foxhound is very similar to the Beagle, just taller and larger.
The American Foxhound does very well as a member of the family. They do not like being left alone for long periods and they require a lot of activity – long walks and playing fetch. The breed is very intelligent, their scent capability is superb and their hunting instinct strong. The American Foxhound has a loud, deep, prolonged howl which can travel a great distance.
The root of several strains of American Hounds is tied to Robert Brooke. In 1650, he sailed for the Crown Colony in America bringing with him a pack of hunting dogs. This family of dogs stayed within the Brooke family for 300 years. In 1770, George Washington received French Foxhounds as a gift from the Marquis de Lafayette – many of which were descended from Brooke's hounds. They were carefully bred with French hounds to help create the present day American Foxhound.
Height: The height for an American Foxhound is between 22 to 25 inches for dogs and 21 to 24 inches for bitches.
Weight: The height of an American Foxhound is between 65 to 70 pounds for dogs and 60 to 65 for bitches.
Coat Type: The coat of the American Foxhound is smooth and hard. Medium length.
Color: The color of the American Foxhound's coat can be of any color . Color combinations include black, white and tan, white, black and tan, black, brown and white, brown, white and tan and white and red.
Temperament: The American Foxhund is affectionate, gentle and loving. His reaction to strangers can either be very friendly or protective. This breed enjoys company; it is not best to leave alone for extended periods of time. The American Foxhound is excellent with children and they generally do well with other dogs, however, not with non-canine pets. This energetic breed does well on farms, rural areas or in homes with acreage.
Health Problems: The American Foxhound is a fairly healthy breed. It is free of many genetic diseases which are common in large breeds such as hip and bone ailments. They have a tendency to overeat if fed too much resulting in weight gain. Thrombocytopathy, or platelet disease is a minor health concern. Both dysplasia (which is very rare in Foxhounds) and eye issues have occasionally been noted. The life expectancy of an American Foxhound is between 10-13 years.
Special Interest:
• George Washington's journals list more than 30 hounds – several of the names noted include "Drunkard," "Tipsy" and "Tipler".
• In 1852, a black and tan hound was stolen out of Tennessee and taken to Madison County, Kentucky. • The name of the hound – "Tennessee Lead". It was this hound that became the foundation sire of all Walker, Trigg and Goodman foxhounds and it is these three strains which make up the major portion of what is called American Foxhounds by the AKC today.
• The American Foxhound serves four purposes: field trial hounds, fox hunting hound, "trail" hounds, and pack hounds.
• The American Foxhound is Virginia's official state dog (1966).
Classifications:
AKC: Hound Group
CKC: Hounds – Group 2
FCI: Group 6 Section 1 Scenthounds
UKC: Scenthounds
Kennel.com Recommends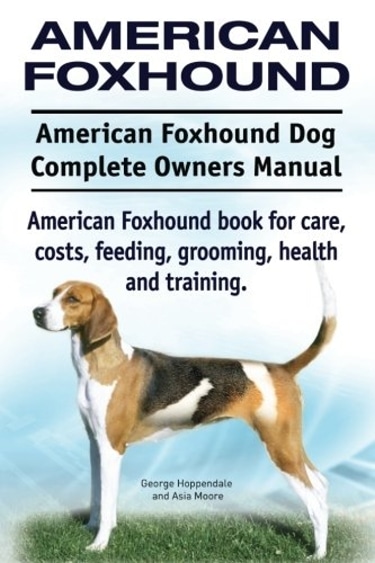 American Foxhound