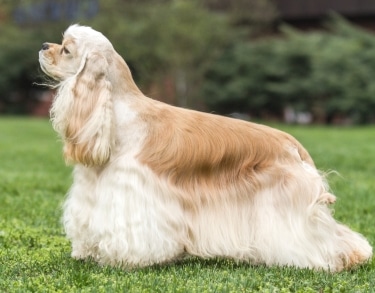 Description: The American Cocker Spaniel (or Cocker Spaniel as it is called in the USA) shares the same ancestry as the English Cocker Spaniel until the late 1880s. At that time, a stud named Obo II came to the United States where he attracted a great many fanciers. Soon after, changes began to occur and there emerged two distinct types of Cockers. One retained the original longer-bodied, heavier conformation, the second was lighter, with a shorter back, longer legs and heavier coat.
Efforts were made to distinguish the two breeds and in 1947, the newer variety was officially called the Cocker Spaniel (American) and the original was renamed the English Cocker Spaniel. This breed loves to play in the water and outdoors, and would be happiest with an active family in either the city or country.
Height: The height of a Cocker Spaniel is 14.5 – 15.5″ (36.8 – 36.8cm) for dogs, 13.5 – 14.5″ (34.3 – 34.3cm) for bitches
Weight: The weight for a Cocker Spaniel is between 24 – 28 lbs (10.7 – 12.5 kg)
Coat Type: The Cocker Spaniel's silky coat may be straight or slightly wavy and is most profuse on the legs and underside.
Color: Colors of the Cocker Spaniel's coat may be any solid color or part-color which is white with any other well-defined color. Regular grooming is necessary as may be some trimming.
Temperament: The Cocker Spaniel is well-known and loved for its happy, friendly personality. He is an exuberant and outgoing dog.
Health Problems: Epilepsy is highly suspected to have a genetic component in this breed.
Special Interest: This breed ranked as the most popular dog for some 15 years in the 1940s and 50s, and still remains in the top 10 today.
Classifications:
AKC: Group 1 – Sporting Dogs
ANKC: Group 3 – Gundogs
CKC: Group 1 – Sporting Dogs
FCI: Group 8 Section 2 Flushing Dogs
KC: Sporting – Gundog Group
NZKC: Gundog
UKC: Gun Dog
Kennel.com Recommends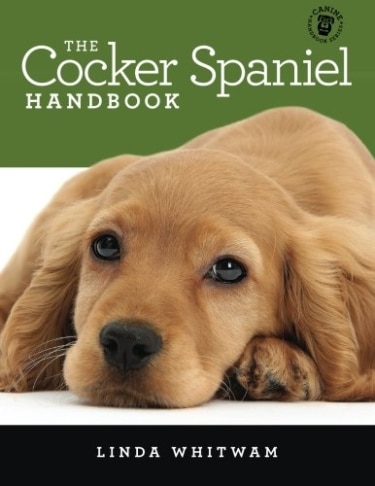 Cocker Spaniel Handbook